By ROBERT JUMPER
ONE FEATHER EDITOR
Larry Burton Spence Sr. enlisted in the United States Navy on May 1, 1958 and went to San Diego, Calif. where, in boot camp, he became a "chow runner" for the company. He was sent to "Electrical A School" for three months up in the Great Lakes area for electrical theory training. He said that the school was tough with study in mathematics.  After electrical training, he returned to California. This time, it was Alameda, to get his ship assignment, the USS Hancock, a Navy aircraft carrier. He made a couple of cruises on this ship.   He saw Hong Kong, the Philippines, and Japan. He spent approximately three years on the Hancock before returning to the Great Lakes for additional training in 1962, "Electrical B School" where he learned basic electrical theory.
Spence said that when John F. Kennedy took office, there was an emphasis on exercise in the military, more so than normal. So, in addition to sitting in classes all day to learn electrical duties, the Navy also had a rigorous physical fitness program for him to "enjoy."
When he completed B School, Spence moved to Charleston, SC for his next assignment. He boarded the USS Gilmore. He spent three years in "under-way training," traveling up and down the east coast onboard and to the Caribbean. The USS Gilmore was constructed as a submarine tender just before World War II and, during the Vietnam War continued servicing and repairing submarines. Then, in 1965, he went to Panama City, Fla., for shore duty and more training. "That was small boats, mine warfare lab."
In 1967, Spence went to New Orleans to serve on a ship that made repairs to small craft going to Vietnam. He shipped out to Vietnam, serving there for a year (the ship left New Orleans in April 1968 and returned in April of 1969, the Navy counts the travel time in with the Vietnam tour of duty). The ship was close enough to one Navy shore battle that Larry and his crew took fire. "We were anchored next to Dong Tan, Vietnam. They (Navy flotilla) was dropping mortars in on Dong Tan."
After Vietnam, he came back to the states for additional training. While stateside, Spence married his wife Carol and a honeymoon followed.
She said, "It was a 'moon' holiday. It was 1969 when the men first walked on the moon, and the Navy granted an extra day of liberty to commemorate the occasion. So, we went to Reno, Nev. and got married."
Spence began his service on the USS Coral Sea, an aircraft carrier, which carried him back to Vietnam to be a part of the ship's mission to provide air support to the troops in Vietnam. During his time on the carrier, he had to be in top physical condition.
He talked about changing the bearings on motors on the ship. "We would take the end bells off, pull the rotors out, then put them on our shoulders, carry them forward, sometimes in a run, where we had the heat lamps and stuff, heat the bearing up for that motor, pull the bearings off, put new ones on, carry it back to the motor, and slap the end bells back together. That was in boiler rooms, engine rooms, and switchboard rooms, carrying heavy equipment up and down metal staircases."
Spence chuckled, "I was in real good shape."
When he finished his tour with the USS Coral Sea, Spence was assigned to the "mothball fleet" in Viejo, Calif., for two years. He and the sailors there maintained the ships that were in storage, keeping the marine growth off the ships and taking preventative measures against salt water damage and rust. After that, he served on the USS Hector, a repair ship for other ships, and remained there until his retirement in 1977 at the rank of E-6 (Petty Officer, 1st Class).
During his career, he served on several Navy vessels. The USS Sphinx was a ship originally built as a landing ship for service in the Second World War. It was later converted to be used as a repair ship for landing ships.
Spence recalls an incident on the USS Sphinx, during a ship out to Vietnam. "When we hit the ocean, we lost both main engines. Oh goody. We ended up getting towed into Panama and getting fixed there at the Panama Canal. We went through the canal. That was interesting."
He said that one of the benefits of service during that time is that he was able to visit places around the world and, when not on active duty, could see and learn about different cultures.
At one point, Spence served a stint as a Shore Patrol Officer and was asked to pick up what was supposed to be an erratic and tough prisoner from the Air Force. Convinced he would be dealing with a potentially dangerous individual, he checked out a pistol for his protection. Arriving with the "paddy wagon", the prisoner meekly came out and quietly surrendered to him. Spence said he had to laugh because he had been worried and expected the worst, and what he got was just the opposite.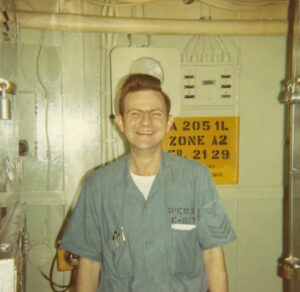 While he served, his wife Carol "held down the fort." While he was away, Carol would show their baby daughter a picture of Larry in his "blues", one of his uniforms in the Navy, so that she would be able to recognize and not be afraid of him when he returned. When Spence returned, and Carol brought the six-month-old to greet him as he got off the ship, Larry was wearing his "whites", and the little girl did not recognize him. It was only when they got home, and he changed into his "blues" that his young daughter welcomed her daddy home.
During Spence's first tour with the USS Coral Sea, Carol was at home working in a VA hospital and taking care of the home. "I just did what needed to be done. I learned how. That was all you could do was just learn how."
Spence said he gained much from serving in the Navy. "I enjoyed the military. It was interesting, and it set me up pretty much. When I got out of the military, I went to junior college to study electronics, air conditioning, and welding under the GI Bill, which led to a 58-year career as an electrician. I used the trade that the Navy gave me."
Spence is 77-years-old and has been married to Carol for 49 years. Larry Spence's son, Larry Jr., has been a magistrate in Bryson City for over seven years. His daughter is CNA-2 for home health in the Andrews-Marble area. He has several grandchildren that live in the surrounding western counties. Larry and Carol have attended Whittier Church of God for the past 20 years. During his years of service, both Larry and Carol made many friends across the country, with many of whom they keep in touch. Similarly, family members are spread out over the nation.
Larry Sr. is a member of the Bryson City Veterans of Foreign Wars Post 9281 and the American Legion Steve Youngdeer Post 143 in Cherokee.
He was awarded the following decorations, medals, and badges: Vietnam Service Medal, Vietnam Campaign Medal, Armed Forces Expeditionary Medal, Vietnam Gallantry Cross, Meritorious Unit Commendation, Combat Action Ribbon, National Defense Service Medal, and the Good Conduct Medal (x4).