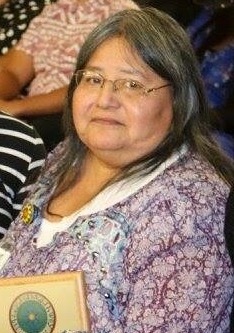 Lucetta Hill Ward, 56, of the Big Cove Community in Cherokee suddenly went home to be with her Savior on Sunday, Nov. 12, 2017.
Lucetta was a life-long native of the Big Cove Community of Cherokee.  While Lucetta was most recently a Cherokee language teacher, she has been an integral part in many student's lives.  Lucetta spent her earlier years teaching in the HeadStart & Childcare programs on the Boundary.  She worked at Youngdeer child development, Big Cove Head Start, Dora Reed Head Start, and finally Cherokee Central Schools.  Ms. Lucetta, as many of her students called her, was recently honored as a Distinguished Citizen on Ned Long Day.  She was chosen because she cared about every single one of her students and loved them like her own.  She was also a beloved singer of southern gospel songs that she often translated into the Cherokee Language.  She passed on this gift as she taught many students who were part of the traditional singing group of Cherokee Elementary School.  She was a member of the Straight Fork Baptist Church.
She is survived by her husband of 33 years, Larry Ward; three children, Consuela B. Girty (husband Jeff) of Cherokee, Toby Ward of Tennessee, and Joseph Ward; 14 Grandchildren; one brother, Calvin Hill; three sisters, Laura Pinnix (husband Keith), Maxine Stigman (husband Gene), and Mary Hill.
Lucetta was preceded in death by her parents, Jacob J. Hill and Golinda Armachain Hill; one brother, Dennis Hill; and two sisters, Jeanette Ward and Rachel "Punkin" Hill.
Visitation will be held on Wednesday, Nov. 15 from 6-11pm at the Chief Joyce Dugan Cultural Arts Center at the Cherokee High School.  Funeral services will be held on Thursday, Nov. 16 at 2pm at the Cultural Arts Center with a visitation prior to the services from 12-2pm.  Services will be officiated by Bruce Weeks, Skeeter Hindman, Lois Orr, and Ann French.  Burial will be at the Hill Cemetery on Soggy Hill Road in the Big Cove Community.  Pallbearers will be Eugene Hill, Brandon Ward, Keith Pinnix, Jeff Girty, Dean Hill, and Pat Hill.
Long House Funeral Home is assisting the Ward family.