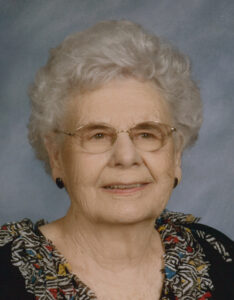 CLYDE – Christine Parker Buchanan, 96, passed away on Monday, Oct. 23, 2017 at Silver Bluff Nursing Home.
She was a native of Swain County, but had lived most of her life in Haywood, and was a daughter of the late Ben and Flora Lambert Parker.  In addition to parents, she was preceded in death by her husband of 60 years, Hastings Bernard Buchanan, who died in 2004; and a grandson, Chad Buchanan, who died in 2014; four brothers; and three sisters.
Christine was the oldest of twelve children and a member of the Eastern Band of Cherokee Indians.  She was born at Smokemont and spent her childhood years on Becks Branch in the Tow String Community.  She later attended and graduated from Big Cove Boarding School.  In 1943, she met a young man from Bryson City at a dance, and went on to marry him the same year.  In 1947, they moved to Canton for HB to go to work at Champion Fiber Company.  Christine was the oldest member of Oak Grove Baptist Church.  During her years at Oak Grove, she was involved in many different activities, and she was a Sunday school teacher.  She was active in the Thickety Home Demonstration Club.  She was a senior 4-H club leader, and was a PTA leader.  Christine enjoyed caring for her family and her home.
She is survived by three children, Doug and Patty, of Cary, Bill and Paulette, of Clyde, and Cathy and David Boone, of Canton; a grandson, Brian and Angie Buchanan, of Cary; a step-grandson, Shawn Boone of Asheville; two great-grandsons, Parker and Peyton, of Cary; three brothers, Carroll, Don, and Tom Parker; and a sister, Elba Crain, all of Cherokee.
The family would like to express their gratitude to the Silver Bluff staff members for the loving care they provided to her these past few years.
Funeral services will be held at 1pm on Thursday, Oct. 26, 2017 in the Canton Chapel of Wells Funeral Home with the Reverend Jeff King and Reverend Ned Webb officiating.  Burial will follow at Swain Memorial Park in Bryson City.  The family will receive friends from 11am – 12:45pm prior to the services at the funeral home.
Flowers are appreciated or memorials may be made to Oak Grove Baptist Church, 39 Robinson Road, Clyde, NC  28721.
An online memorial register is available at "Obituaries" at www.wellsfuneralhome.com