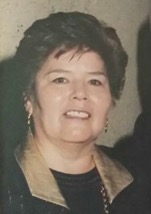 Marion Tooni Teesateskie, 71, of Cherokee, passed away Sunday, Oct. 22, 2017 following an extended illness.
She was most recently employed by the Eastern Band of the Cherokee Indians as an intake counselor for Juvenile Services Program.  She was director of community services and served four consecutive terms as Painttown Council Representative.
Marion is survived by two sons, Bobby Teesateskie (wife Dulcie) of Dellrose, Tenn. and Bennie Teesateskie of Cherokee; six grandchildren; sisters, Helen McCoy (husband Robert) and Lillie Smith both of Cherokee; and niece, Arlyce Smith of Cherokee.
Marion was the daughter of Ike and Jennie Hornbuckle Tooni.  She was preceded in death by her husband, Frank Teesateskie, and one daughter, Marlene Junaluska.
Memorial services will be held on Tuesday, Oct. 24 from 3-6pm at the Painttown Community Center.  Burial will be at the Tooni Family Cemetery.
In lieu of flowers, the family requests that donations be made to the Juvenile Services Program at 85 Boys Club Road, Cherokee, NC  28719.
Long House Funeral Home is assisting the Teesateskie family.