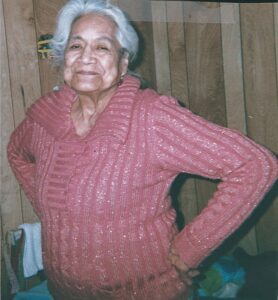 Lois Ondrea Wahnetah Pensavalle, 83, of Cherokee, made her journey Tuesday, Oct. 17, 2017. A native of Cherokee, she was the daughter of the late Samuel and Cora Wahnetah.
She was preceded in death by her grandsons, Michael Austin and Robert Lee Wahnetah; daughter, Maria Wahnetah Armachain; and siblings, Samuel Wahnetah Jr., William Johnson Wahnetah, Jean Bernhisel, Betty Joe Taylor, Sybil Starlin, and Patty Sue Monreal.
She is survived by grandchildren, Lois Ondrea Armachain, Carla and Samuel Wahnetah; children, Ricky Wahnetah, Guy Pensavalle, Franky Pensavalle, Tony Mondelli; many grandchildren and great grandchildren; sisters, Margaret Wahnetah French and husband Gary, and Charlotte Maney; and several nieces and nephews.
Funeral services will be held at 3pm on Friday, Oct. 20 at Wrights Creek Baptist Church. Brother James (Bo) Parris will officiate with burial in the Yellowhill Cemetery.