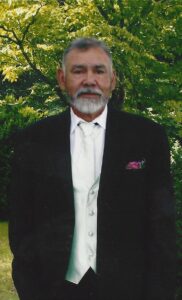 Glenn "Dude" Davis, 70, of the Big Cove Community in Cherokee, passed away on Thursday, Oct. 12, 2017 at Mountain View Manor Nursing Home in Bryson City.
Dude was the son of late Jack and Roxie Davis of Cherokee, and husband of eight years to Wanetta Davis. He was a graduate of Swain County High School. He was a U.S. Navy veteran who proudly served his country during Vietnam. He attended Haskell Indian Nations University in Lawrence, Kansas. Dude had been a police officer, wildfire fire fighter, and game warden in his life.  But, he was most well-known by friends "too numerous to count" as a coach of Cherokee High School for 20 years. Dude was a family man who would do anything for anyone. He was an avid hunter and fisherman and loved the outdoors. He loved riding his motorcycle. As a coach, he was the biggest sports fan of Green Bay and Oklahoma football and NC Tar Heel basketball. He shared many friendly rivalries with his family and friends.
Dude is also survived by his children, Glenn Davis Jr. with wife Jessica, Verron Davis and Dawn Dee Davis; brothers, Will and Carl Davis; sister, Vera Davis; 13 grandchildren and 13 great grandchildren; several nieces and nephews; and his very loved fur "baby" Shanikwa.
Dude was preceded in death by his first wife, Wilma Davis; grandparents Israel and Margaret Davis; brothers, John "Hoppy" Davis and Mark Davis; sisters, Betty Davis and Jacki Davis; grandsons, Ryan Miller, Leroy and Aiden Davis and granddaughter, Lexi Davis.
The family will receive friends in the Chapel of Long House Funeral Home on Monday, Oct. 16 between the hours of 12-3pm.  No further services are planned at this time.