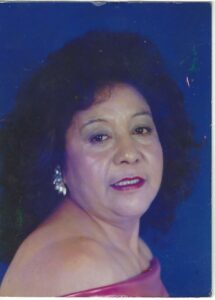 Margaret Teesateskie Welch, 71, of Robbinsville, passed away Saturday, Feb. 18, 2017 at her residence following a brief illness.
She was born June 7, 1945 in Graham County to the late George Teesateskie Sr. and Sarah Jumper Teesateskie.  Margaret was a homemaker and a member of the Baptist faith.
Margaret is survived by her children, Freelin (Tracie) Welch of Cherokee, Freeman Welch of Coleman, Fla., Shane (Jessica) Welch of Robbinsville, Sally Anderson of Robbinsville, and Samantha Anderson of Cartersville, Ga.; 14 Grandchildren; 10 Great Grandchildren; and one brother, Willie Teesateskie.
In addition to her parents, Margaret was preceded in death by two brothers, George Teesateskie Jr. and Woodrow Teesateskie; one sister, Lucy Ann Teesateskie Swimmer; and one great granddaughter, Addison Grace Beasley.
Visitation will be held on Monday, Feb. 20 beginning at 5pm at the Zion Hill Baptist Church in Robbinsville where the body will remain until the hour of service on Tuesday, Feb. 21 at 12noon.  Pastors James "Bo" Parris, Michael Rattler, and Tom Comacho will officiate.  Burial will follow at the Little Snowbird Baptist Church Cemetery.  Pallbearers will be Darryll Teesateskie, Woodrow Teesateskie, Reginald Welch, Paden Welch, Corey Teesateskie, and Brian Jeffery.