Chairman Archambault addresses USET meeting in Cherokee
By SCOTT MCKIE B.P.
ONE FEATHER STAFF
Hundreds of people stood and raised their fists in the air in a show of solidarity.  The scene wasn't a protest in Washington, DC.  It was a show of support for the Standing Rock Sioux Tribe (SRST) from the attendees at the opening session of the USET Annual Meeting held at Harrah's Cherokee Casino Resort on the morning of Monday, Oct. 24.
The Standing Rock Sioux Tribe, whose reservation encompasses portions of both North Dakota and South Dakota, is currently embroiled in a fight against the construction of the 1,200-mile Dakota Access Pipeline near the reservation by Energy Transfer Partners.  SRST leaders and tribal members, joined by hundreds of supporters, have set up an area, known as the Sacred Stone Camp, to show their solidarity in the fight.
SRST Chairman David Archambault II addressed the meeting in Cherokee on Monday morning and gave an update on the fight against the pipeline's development as well as his tribe's views on the issue.
"The Standing Rock Sioux Tribe has always stood strong and said that we oppose any such development.  We oppose the destruction of Mother Earth including putting in pipelines to transport fossil fuels."
He said support for his tribe and their fight has come from all over Indian Country as well as Indigenous peoples throughout the world.  "There is a rise in Indian Country.  I feel like it's a spirit that has been awakened throughout the world in Indigenous peoples and Indigenous lands, and it's because of the infringement on our rights.  There have been certain wrongs that have taken place, and it seems like they continue to take place."
Chairman Archambault said his people always felt like there was nothing they could do in the past when facing such issues.  "But, this experience that has taken place at Standing Rock, the unity that is there, helped me learn that there is something that we can do.  And, to be together, we can make enough noise to change and make a difference."
Joining Chairman Archambault in the trip to Cherokee was Chief Arvol Looking Horse, the 19th generation keeper of the Sacred White Buffalo Calf Pipe.  "Arvol has been fighting for Unci Maka (Grandmother Earth in the Lakota language) for as long as I know, and he's been an advocate to protect Mother Earth," Chairman Archambault said as he praised Chief Looking Horse's efforts over the years.  "He's been around the world doing that work, and I know he's struggled with that fight and building awareness."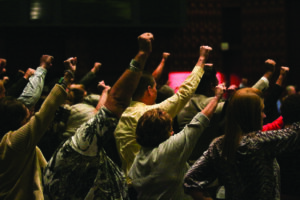 Chairman Archambault said he always has to remind people what the purpose for the fight truly is.  "The movement is about the Missouri River.  That's where we live.  That's our home.  The Missouri River is water, and to us, water is life.  All we have to try to do is go without it for several days and we understand what it means.  It's really easy and a real simple concept – let's protect our water."
He said the fight against the pipeline has brought many tribal nations together.  "We're all different, and we're different for a reason.  We all have our medicines.  We all have our culture and our traditions.  But, it's important that we hold on to these things because it's going to take us to the next era."
Chairman Archambault addressed the issue of the police presence near the Sacred Stone Camp.  "Who are we fighting and what is their agenda?  I look at what they're doing, and they take us away from protecting the river to other topics like police brutality or racism, or we start talking about treaties.  Pretty soon, we're doing all sorts of things, and we're not protecting that water.  But, I think what brings us back to that is that we pray."
He went on to say, "There's a lot of police force from all over, different states, different counties…there's just cop cars from all over – I don't even recognize the county names.  There are blockages going up by the law enforcement.  There's low-flying aircraft.  It feels like we're at war with somebody.  And, I've always maintained that we keep it prayerful, we keep it peaceful."
The support from other tribal nations is being felt in Standing Rock, Chairman Archambault related.  "We have a chance to stop the pipeline, and it's not because of Standing Rock.  It's because of all of Indian Country."
Chairman Archambault concluded by saying, "If I'm truly looking at water and how do I protect this water, I will look at what's in the water now, today, and we need to fix that and then, what's coming up in the future?  We need to change laws…if we're talking about the Dakota Access Pipeline, this starts to focus in on just that, but what I see now is there is an opportunity for all of Indian Country to collectively come together."
The Eastern Band of Cherokee Indians is one of hundreds of federally-recognized tribes across Indian Country to adopt formal support for the Standing Rock Sioux Tribe's fight against the Dakota Access Pipeline.  In early September, Tribal Council passed a resolution, submitted by Vice Chief Richard G. Sneed, for the EBCI to donate $50,000 to the Standing Rock Sioux Tribe for use with their legal battles on the issue.