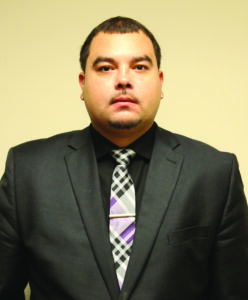 Barton Cartwright recently graduated from the Cherokee Development Program at Harrah's Cherokee Casino Resort and will join the Marketing team as assistant casino services manager.
Barton has a bachelor's degree in sociology from Montclair State University and a master's degree in public administration from Rutgers.  Raised in New Jersey, Barton joined the Cherokee Development Program last spring and has quickly advanced into a leadership role.  He is the son of Sherry Laney and his family is from the Big Cove community.
The Cherokee Development Program (CDP) combines Casino Management 101 coursework with "Making Sense of Chaos" foundational work by Management Resource Associates and selfless leader training modules to create a cultural shift towards continuous learning and servant-leader growth.  The CDP combines on-the-job training with real world case studies to optimize critical thinking skills.  All CDP Associates are cross-trained in both front-of-house and back-of-house departments to optimize cross functionality.  Our goal is to ensure the associates develop metric-based outcome skills while also learning how to lead teams and drive results.
"The Cherokee Development Program has been a success for both Harrah's Cherokee Resort as well as Harrah's Cherokee Valley River Casino & Hotel," said Regional Senior Vice President and General Manager, Brooks Robinson. "Many of our current leaders were graduates of the pilot program and we expect great things from those currently in the program, including Barton.  Developing members of the Eastern Band has been a priority since I became GM and I will continue to fully support those efforts."
– Harrah's Cherokee