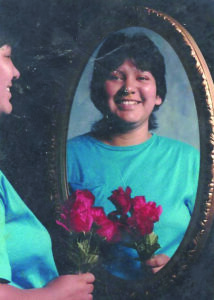 Mary "Girlie" Watty Montelongo, 54, of Cherokee, passed away Sunday, Oct. 9, 2016.
She was born Dec. 20, 1961 in Cherokee to Samuel Watty and the late Elsie Welch Watty.  "Girlie" loved her family.  She thought of her nieces, nephews, and their children as her own.  She was always willing to help others whenever she could.  She will be missed by her family, especially the many, many children she took care of and helped raise throughout her life.
In addition to her father, she is survived by her husband, David Montelongo Sr.; her children; Adam Montelongo, Justin Montelongo, Elicia Montelongo, and Raymond Montelongo; one step-son, David Montelongo Jr.; nine grandchildren; brothers, Samuel "Chute" Watty (Linda Jumper), Charles Watty (Francine), and Dennis Watty; sisters, Regina Watty (John Malpass), and Rebecca Watty (Cleto Montelongo); aunts, Annie French, Mollie Herbold, Maybelle Watty; uncles, Quincy Watty and Joseph Watty; several nieces and nephews also survive.
In addition to her mother, Girlie was preceded in death by one sister, Anna Watty, and one great nephew, Fabian.
Visitation will be held on Tuesday, Oct. 11 at the Straight Fork Baptist Church beginning at 5pm where the body will remain until the hour of service on Wednesday, Oct. 12 at 2pm.  Pastors Charles Ray Ball and Steve Smith will officiate with burial to follow at the Sam Watty Cemetery.
Long House Funeral Home is assisting the Montelongo family.