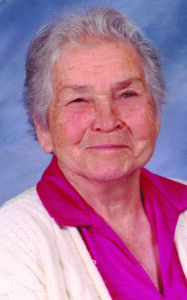 Lula Reed Owl, 97, of Cherokee went home to be with the Lord Saturday, July 23, 2016. A native of Cherokee, she was the daughter of the late Fidele and Addie Hornbuckle Reed. She was a member of the Cherokee United Methodist Church. She worked for 27 years at the Cherokee Indian Hospital and sat with the elderly. A giving person, she enjoyed helping others that were less fortunate and loved to cook.
She was preceded in death by her daughter, Betty Wolfe Queen; six sisters; four brothers; several grandchildren and great grandchildren.
She is survived by her children, Lucille Wolfe, Laura Blankenship (Bob), Elsie Rattler, Bill Wolfe (Lucille); 18 grandchildren; 51 great grandchildren; 53 great great grandchildren; and sister, Maggie Owl of Murphy.
Funeral services will be held at 12pm on Monday, July 25 in the chapel of Crisp Funeral Home. Rev. John Ferree will officiate with burial in the Piney Grove Cemetery.
The family will receive friends from 11am to 12 pm Monday at the funeral home.