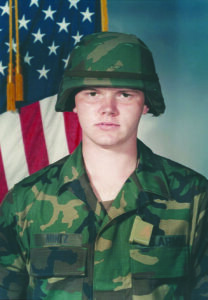 Christopher David Mintz, 45, of Waynesville, went home to be with the Lord, Monday July 18, 2016, in a Buncombe County health care facility. A native of Haywood County he was the son of Oscar Mintz and Sandra Roland of Waynesville. He was a lifelong resident of Haywood County and resided with his late grandmother, Marie Roland. In addition to his grandmother, he was also preceded in death by a maternal grandfather, Kelly Roland; paternal grandparents, John and Violet Mintz; one brother, Randy Fowler, and a nephew, Dillon Bernhisel.
Chris attended JROTC in High School and after High School he served in the National Guard where he spent five years. He also served as a volunteer Fire Department Member in Clyde for three years.
Chris enjoyed watching the NASCAR Races and singing in Church with his grandmother Marie.
In addition to his parents, Chris is survived by his wife, Jennifer Mintz of Waynesville; one daughter, Catilyn Mintz of Hendersonville; three sisters, Kelly West and husband Angelo of Cherokee, Ellen Williams and husband Eric of Colorado, and Carla Mintz of Waynesville; two brothers, David Hedrick and wife Cindy of Madison County, and Palmer Mintz of Waynesville; five nieces; three nephews; and two great nieces.
Funeral Services will be held 2pm on Wednesday, July 20 at Crisp Funeral Home Chapel. Revs. Neil Roland and Roger Roland will officiate with burial in the Jarrett-Blythe Cemetery.
The family will receive friends from 12-2pm on Wednesday at the Funeral Home.
Pallbearers will be Kevin Hedrick, Brandon Hedrick, Jose Santoyo, Scott Dover, Taka Lincoln and Tori Nichols.