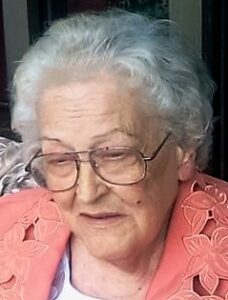 Nancy Ann Rose Long, passed away at the Cherokee Indian Hospital following a long illness on July 16, 2016.  She was 77 years old.
She was preceded in death by her husband, Robert "Bob" Long; son, Eddie Long; parents Benjamin "Ted" Rose and Mildred Warren Rose; brothers, Albert Dale Rose and Benjamin "Teddy" Rose.
She leaves behind her sons, Robert "Bob" Long and wife Joann, Peter "Pete" Long and wife Vickie, Donald Long and wife Bernedine, Kenneth "Kenny" Long and wife Rhonda, Ronald "Ronnie" Long and companion Connie; 20 grandchildren and 28 great grandchildren.  She also leaves behind her brothers, Donald Rose and Ray Rose and his wife Kathy; her sisters, Phyllis Coons, Mary Booth and her husband Bill, Brenda Johnson and her husband Larry, Linda Carter, Vivian "Lib" Keiffer and her husband Dan, and Alice Lambert and her husband Joe, and many nieces, nephews, and special friends.
She above all was a beloved mother and grandmother.  Many family members and friends have spent endless hours at her kitchen table or porch sharing life's problems and asking her for advice.  She was a good listener and she always told it to you straight.  She was an advocate for her community and tribe and spent many hours researching Cherokee History.  Through her work and compassion she fought against domestic violence.  She was vigilant in following tribal proceedings and spoke her voice on many issues.
The family will celebrate her life at Bigwitch Baptist Church on Monday, July 18 from 6-9pm and a funeral service is scheduled for Tuesday, July 19 at 11am.  Denny Crowe and Percy Cunningham will officiate.  Grandsons will serve as pallbearers.  The burial will follow at the Long Family Cemetery.