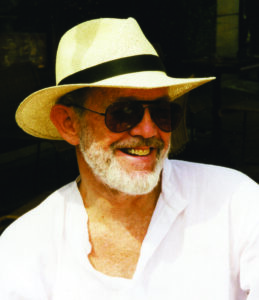 Ben Oshel Bridgers, 76, of Sylva, entered the gates of larger life on Saturday, July 9, 2016, in his home.
Ben Bridgers was born in Macalester, Okla., to Jasper and Louise Bennett Bridgers on Aug.  31, 1939.  He received a bachelor's of arts degree in english from Hendrix College, a master's of arts degree in english from the University of Arkansas and taught at East Carolina University before entering the United States Air Force as a communications officer for the Strategic Air Command, Ellsworth Air Force Base, S.D. He graduated from The University of North Carolina School of Law in 1971 and moved to Sylva where he practiced law for 40 years. In addition to private practice, he served as the Tribal Attorney for the Eastern Band of Cherokee Indians for three decades and was a nationally-recognized expert in Native American law.
He loved music, literature, travel and the performing arts. He wrote poetry and was a student of world religions. To commemorate his 60th birthday, he swam the Hellespont in Turkey following the same route from Sestos to Abydos Lord Byron had taken in 1810.  He was a dedicated member of St. John's Episcopal Church where he served on the Vestry for many years, sang in the choir, and served as lector. Over the years, he gave his time and financial support to many causes and organizations in Jackson County and around the world. He was especially committed to the Southern Poverty Law Center.  Beloved by his children and grandchildren, he was always supportive of their endeavors and interests.
Ben is survived by his wife of 53 years, Sue Ellen Hunsucker Bridgers of Sylva; his three children, Elizabeth Abbott Bridgers and partner John, Jane Bennett Bridgers-Carlos and husband Aaron, Sean MacKenzie Bridgers and wife Rachel. He is also survived by his sister, Leah Bridgers Baker and husband Steve of Austin, Texas; his sister –in-law Sandra Hunsucker and brother-in-law Abbott Hunsucker, both of Winterville; ten grandchildren and six nephews and nieces. He was preceded in death by his parents.
Visitation will be held on Thursday, July 21 from 5-8pm at Appalachian Funeral Services, 165 Skyland Drive, Sylva. A memorial service will be held at St. John's Episcopal Church on Friday, July 22 at 2pm with the Reverend Pattie Curtis officiating.  Burial will be at a later date.
Memorial donations may be made to Memory Care at 100 Far Horizons Lane, Asheville, NC 28803; Pathways Hospice through gifts to Great Smokies Health Foundation, PO Box 176, Sylva, NC 28779; or St. John's Episcopal Church, PO Box 175, Sylva, NC 28779.