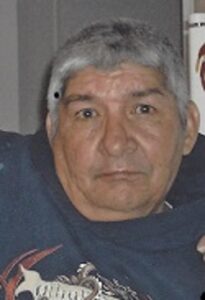 Michael Ray French, 62, of Cherokee passed away Friday, July 8, 2016 at his residence with his loving family by his side.
He was born March 6, 1954 in Cherokee to the late Roy French and Mary Swayney French.
Michael is survived by his wife, Martha "Sissy" French; his children, Moni Toinetta (Ben) and Zave French; one grandson, Jess Toineeta; two brothers, Walter French (Brenda) and Richard French (Angie); two sisters, Karen Browning and Wanda Myers; one very special sister-in-law, Sherry Jones; two special dogs Jasper and Minnie; and many cousins, nieces, and nephews.
In addition to his parents, Michael was preceded in death by one brother, Edwin (Peanut) French.
Visitation will be held on Monday, July 11 from 5-8pm at Long House Funeral Home.  Funeral services will be held on Tuesday, July 12 at 11am at Long House Funeral Home Chapel.  Burial will follow at the Manley George Family Cemetery.  Pallbearers will be Cricket Driver, Charlie Burgess, Harold George, Lil Buc, Roy Bradley, and Calloway Ledford.