Wilena Olivia Cox, 61, of Rutherfordton and born of Cherokee, passed away on Friday, July 3, 2015 at the Rutherford Regional Hospital following a short illness.
She had been living and enjoying life among friends she made at the Sunny Side Retirement home in Forest City.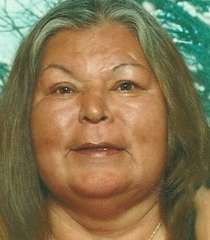 Wilena was the daughter of the late Edwin Clement Crowe and Cindy Crowe Owl. She enjoyed talking and relaxing with her friends, days out and getting her nails done when she got a chance.
Wilena is survived by a son Franklin George Hornbuckle with wife Dawn of Sylva; brothers, Joe, Kenny, George, Eddie and Jackie Crowe; sisters, Roberta Rice, Mollie Price and Ruby Price and three grandchildren; special friends and caregivers Lisa Wilson and Tammy Jones, who cared for Wilena for the past six years and developed a close friendship.  She will be missed.
She was also preceded in death by a son, Ronnie Ray Hornbuckle Jr.; brother, Billy Crowe; sister, Sally Ann Ensley and grandchild, Madison Paige Hornbuckle.
A funeral service was held on Monday, July 6 in the chapel of Long House Funeral Home with Brother Ben Reed officiating.  An immediate burial followed in the Jarrett Blythe Cemetery in the Wolfetown Community with pallbearers being Rex Price, Lex Price, Lee Price, Sammy Crowe, Kane Crowe and Aaron Mullen.