Posting a record of 31-7 this past year, Nika West coached the Springdale Har-Ber High School Wildcats to a second place finish in the first-ever Arkansas Wrestling Coaches and Officials Association 6A/7A Dual State Championship.  For his work, West, an EBCI tribal member who grew up in the Big Cove Community, has been named the Outstanding Wrestling Coach of the Year in Arkansas.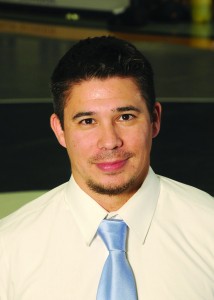 "I am honored to have been selected as Coach of the Year, especially when my peers think I have deserved the award." said West.  "It means a lot to me and to the program we have at Har-Ber High School."
In the 2014-15 season, the Springdale Har-Ber Wildcats placed in eight of their 10 tournaments including two first place finishes.
A 1996 graduate of Swain County High School, West received his bachelor's degree in kinesiology from the University of Arkansas in 2006 and his master's of arts degree in teaching in 2007.
West's first coaching job was at Gentry High School in Arkansas in 2007.  He then served as an assistant coach at Rogers High School in 2009 followed by a move to his current position as head coach at Springdale Har-Ber.  His coaching record with the Wildcats is 136-49 (28-3 conference record) and he has coached 30 All-State wrestlers and 55 state medalists. He is also currently serving as the Arkansas National Greco/Freestyle Coach.
– One Feather staff report