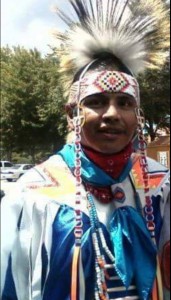 John Robbie Bigmeat, 43, of Cherokee, passed away unexpectedly on May 18, 2015. Robbie is the son of John Ray Bigmeat and Marietta (Sampson) Toineeta. Along with his parents, Robbie is survived by his wife Sherry Bigmeat and children Sasha Youngdeer, Samantha Youngdeer, Chelse Youngdeer (all of Cherokee) and Teelah Youngdeer of Charlotte; one sister, Missy V. Ison; eight grandchildren; other family members surviving, Susie, Bunny, Dot, Joann, Kenny, Enoch, Robert, Chuck and Jen, Blue Jay, Amber, Jaicee and many friends.
Robbie is preceded in death by a brother, Damian (Bear) Toineeta; sister, Judy Rae Reed; grandmothers, Golinda Lambert and Lucinda Sampson.
A funeral service was held at the Cherokee Wesleyan Church on Thursday, May 21.  Burial followed at the Oocumma Family Cemetery located on Bluewing Road.  Friends and family served as pallbearers.  Patricia Crockett and James "Bo" Parris officated.
Long House Funeral Home assisted the family with arrangements