By SCOTT MCKIE B.P.
ONE FEATHER STAFF
The Junaluska Leadership Council (JLC) hosted a candidate forum for the Big Cove Tribal Council candidates on Thursday, May 14 in The Tribal Council Chambers.  Prior to the start of the event, JLC chairperson Taylor Nelson stated that Incumbent Perry Shell and Candidate Richard French would not be in attendance due to the passing of a relative.
INTRODUCTIONS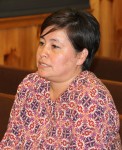 Candidate Consie Girty commented, "I have first-hand seen what drug addiction has done to our children and what's happening to these children who are being born addicted."  She said the drug problem is a big problem.  A teacher at Cherokee Central Schools, Girty said, "Since children are my passion, I will be an advocate for children."
Girty said she has worked with many Cherokee children and families over the years.  "These children deserve the best of the best.  There should be no excuse for giving them anything less." She also said more accountability is needed in tribal government.  "I want to bring back a voice to our community.  Our Council members need to be available to our community members.  They need to be open to their concerns and ideas."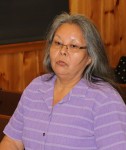 Candidate Mary Welch Thompson thanked the JLC for hosting the event.  She related that she currently serves on the Council of Native American Farmers and Ranchers in addition to several area councils.  Thompson said she would like to see more focus on children with disabilities with more programs and services being provided for them.
"There are some tribal programs that need restructuring.  There needs to be more attention paid to the revenues of this Tribe as the tribal government is spending, and I believe that, morally, I should do what is right in the eyes of my constituents."
Incumbent Teresa McCoy said she has served over 30 years in the Big Cove Community in various capacities including 18 years as a Council Representative.  "I inform the members of my community club on issues that are coming up today and that are vitally important and have an impact on them immediately and possibly an impact on them for years to come."
"Leadership means that you step up to serve and never think of yourself.  Politics and politicians like votes and not people.  They like to do what's best for their back pocket and not what's best for the community.  I have sat there all these years, and not once have I helped myself."
McCoy held up 124 pieces of legislation that she has submitted over the years.  "I think a Council member needs to be able to show, literally show, what they have done over the years.  124 pieces of legislation is phenomenal, and I'm very proud of myself for having the fortitude to do it."  She said she isn't looking for credit, "Leadership is what this Tribe has been needing for some time."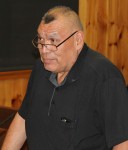 Candidate Buddy Johnson thanked the JLC for the opportunity.  He said he brings over 30 years of administrative, leadership and supervisory experience to the table.  "I co-wrote the personnel policy of the Tribe."
"I want to be able to use my work experience and my education to make sure the Big Cove Community residents get the goods and services that the Tribe has to offer."  Johnson said he wants to help with the various application processes for services, "And, I want to educate them about what goes on around this horseshoe."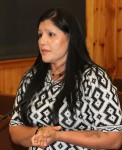 Candidate Lori Taylor related, "What I want to bring is action, proof.  I want you to be able to touch what I'm bringing.  I want it to be real to you – not just a cloud of smoke."  She added, "I want the voice back to the people because that's where the power is."
She said a lot of the problems with the Tribe can be fixed easily.  "It just takes the right people sitting in these chairs to take action and to do it."  Taylor said she is running for Council for the next generations.  "Because I know when I'm gone, who will take care of my kids?  That's what I want to insure."
Taylor added, "A lot of change can come from kindness and love – a love for the people, a love for the community."  She said she wants to open dialogues with all tribal members, but especially the youth.  "Let me take action and go into the school and actually ask these kids, 'why do you start using drugs? Why do you do this?  How can I help?'  I don't even think that's been asked by a leader yet."
STANDARD QUESTIONS
What are your thoughts about staggered payments of the Minor's Fund Distribution?
Girty:  "I think staggering the Minor's Fund would be a great idea because there's so many issues right now with handing that amount of money to an 18-year-old."  She added, "I think if you stagger that, you give that person an opportunity to grow."  Girty said that staggering the distribution would also lower the tax bracket for the recipient.  "I think there's a lot of good things about doing that."
Thompson:  "I agree.  I've spoken with Investment Committee members, and I believe they're bringing that forward at this point."  She said parents had some opposition to it when it was first discussed six years ago.  "But, I believe parents are seeing the different between that $50,000 disbursement and a $150,000 disbursement."  Thompson said that priorities change from the age of 18 to 21 or 24.  "I think it's a good idea.  I hope that the parents can agree with it this time and that Council can actually act on some legislation."
McCoy:  "Early on, the distributions were smaller and the problems were not as great as they are now.  There are trust funds being set up acorss this country is a variety of ways.  I believe that, with input from the parents and the students themselves, it is more popular now to go with a staggered term."
Johnson:  "I think it is a very wise idea."  He said he agrees that age 18 is a good time for a portion of it to be paid, but he is in favor of the staggered payments whereby the money could still make money in interest while still in trust.  "I think how we stagger it out can be decided by the people with a referendum."
Taylor:  "Each family within the Tribe is different.  There are different families that use it for different things.  There are different 18-year-olds that use it for different things."  She said she is for it, but the plan needs more thought.  "The other thing is who's going to watch it?  Who's going to take care of this money?"  She questioned the logistics behind the staggered payments and added, "There needs to be a lot of thought put into this."
What are your thoughts about a Tribal Constitution?
Girty:  "I think it's good.  I think it's a great outline for what needs to happen."  She said she has read the draft.  "I think it's a useful tool that we need because it's kind of like our rules.  It's like having policies and procedures in place…I think it's great."
Thompson:  "I agreed with the last couple of Constitutions that have been proposed.  I'm not sure why those Constitutions didn't pass.  Maybe it had to do with trust or a lack of understanding or knowledge about what was in the previous Constitutions that were presented to Tribal government.  I believe that a Constitution should be voted on by referendum, and I hope that we can get one passed in the near future."
McCoy:  "I sat on the Constitution Committee, and I realized that constitutions aren't drafted by elected people.  That's not very good.  Constitutions are drafted from the public.  So, I asked to step off it."  She said the current process is going well.  "Every time the constitution issue has come up, and I was old enough to vote it, I voted for it.  The document we have today is a generic charter document and is not sufficient to handle the needs of this Tribe."
Johnson:  "I think it's a governing document device that the Tribe has to have."  He said the current governing document is "poor" and said a constitution is needed.  Johnson said he would like to see "job descriptions" included in the constitution for the offices of Principal Chief and Vice Chief as well as Tribal Council representatives.
Taylor:  "That would be great."  She said a constitution would hold elected officials accountable.  "At that point, you give the power back to the people and now you can hold them to something.  So, I agree.  I'm for it."
Are you aware of the Junaluska Leadership Council's involvement with a Tribal Constitution? Have you read the draft?
Girty:  JLC did not ask the candidate this question.
Thompson:  JLC did not ask the candidate this question.
McCoy:  JLC did not ask the candidate this question.
Johnson:  "I am at an indirect distance, and I did read the draft.  It also is incomplete."
Taylor:  "I'm fully aware, and that's awesome.  You guys sitting here makes me smile to know that there are young adults that want to participate and take part within their Tribe, within their communities, and within their school."
RANDOM QUESTIONS
What do you think our community could do about our lack of foster homes on the reservation?
Johnson:  He said constructing a new facility would be "in vain", but he said other places can be found.  "We need to open up more beds."  Johnson added, "I think we do have some opportunities that could accommodate a foster home."
What are your thoughts on the Tribe building another casino in Murphy?
Girty:  "I feel like that was an issue that should have gone out for referendum."  She added, "We didn't get to do that, and it's unfortunate, but it's there now and I just hope it's managed properly and taken care of."
What is your interpretation of Section 17? Do you support it or oppose it?
Thompson:  "I think that it comes at an inappropriate time.  I think that the Indian Reorganization Act has some good legislation in it pertaining to the 1934 time period.  It's an older piece of legislation and it is not appropriate of the Eastern Band of Cherokee Indians at this time.  I think that we have a Planning Office and tribal programs that are looking out for the economic development of this Tribe."
How will you make tough decisions knowing it will upset your voter base?
McCoy:  "I have never been afraid to answer differently than the other 11 people around the table.  So many times, votes came up at Tribal Council, and I voted alone."  She added, "A lot of times I won.  Many times I lost.  I learned not to take it personally over the years because next month comes and there's nothing that says I can't resubmit."  McCoy said she has never been afraid to stand alone.
What is your opinion about current Council members giving themselves a raise?
Taylor:  "It's wrong.  It's against the law.  It's against the Charter."  She thinks it should have gone out for a referendum vote.  "You make that judge.  You have that opinion."  Taylor added, "I'm a big advocate for the people because you have tribal employees that got a 1 percent raise, and they had to get an "exceeds" evaluation.  So, there were many tribal employees who didn't get a raise."