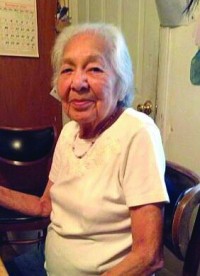 Mary Jane (Welch) Taylor, 88, of Cherokee, passed away unexpectedly at Mission Hospital in Asheville on March 30, 2015.
Mary was the daughter of the late James G. Welch and Lottie (Tramper) Welch of Cherokee and the loving wife to her husband of more than 68 years, Reuben Taylor. Mary was a true example of a Christian woman.  She attended Rock Springs Church along with her family.  She loved everyone and loved hugs.
Mary, being a seamstress by trade, worked for White Shield and retired from Barclays.  She headed up the Sewing Club at Tsali Manor, was a member of the North American Indian Women's Association (NAIWA) and was a charter member of the American Legion Auxiliary.  All are examples of how Mary lived her life; to serve others in the community, to help them grow and communicate culturally and become better people; and not to forget the fun. Mary was also known have a love of playing Ms. Pac Man.
Along with her husband, Mary is survived by two daughters, Frances T. Walkingstick with husband Sammy and Wanda Taylor; sister, Charlotte Taylor with husband Frank; brother, Robert Taylor with wife Cindy; five grandchildren, Chuck Taylor, Dee Toineeta, Kim Wildcatt, Monica W. Tafoya and J.R. Walkingstick; 11 great grandchildren; five great-great grandchildren and countless foster grandchildren, two of which are of the home, Elexia Bird and Dreyvon Taylor.
A visitation will be held at Rock Springs Baptist Church on Wednesday, April 1 from 4pm – 12midnight with a funeral service following in the church at 2pm on Thursday, April 2 with the Pastors Gregg Morgan and Bobby Watts officiating. An immediate burial will follow in the new Welch-Taylor Family Cemetery near the home of daughter Frances along Swimmer Branch Rd. with Pall Bearers being among Friends and Family.
Long House Funeral Home assisted in the final arrangements.