By SCOTT MCKIE B.P.
ONE FEATHER STAFF
Construction on the first building of the new Cherokee Children's Home is almost complete, and, thanks to a $400,000 Cherokee Preservation Foundation grant, construction can continue on the second building.
The new Home is being built on 28 acres located on Goose Creek Road in the Birdtown Community.  When completed, the new Home will consist of two cottages, each with nine beds and other amenities.
"The first building is pretty much complete," said Cris Weatherford, Cherokee Children's Home director.  "We're pretty much just waiting on flooring, and then they'll hook up the outside AC units and then some site work outside which they've been waiting on the weather to do."
On the grant, he said, "This will be a $200,000 construction grant to include many environmentally-friendly and energy-efficient building practices and a $200,000 matching grant."
"The products we used, such as tankless hot water heaters that run on propane, spray-in foam insulation, LED lighting throughout the buildings, and a propane-powered back-up generator would not have been possible to purchase without the Cherokee Foundation's support."
He added, "So far, the total cost of the project is estimated to be a little over $2.6 million."
To date, the project has received funding from various sources including grants from the Cherokee Preservation Foundation and the HUD Indian Community Development Block Grant, a $400,000 donation ($80,000 a year for five years) from the Eastern Band of Cherokee Indians and a $100,000 donation from the Tribal Alcohol Beverage Control Commission.  They have also just received a $20,000 grant from RTCAR (Revitalization of Traditional Cherokee Artisan Resources) for outside landscaping and edible landscaping that will help teach the youth at the Home about edible plants.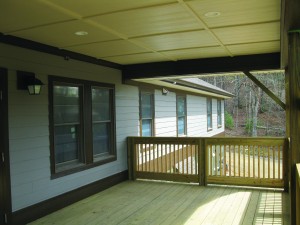 Weatherford said the second house is a little more than 50 percent complete.  "It's dried in and the insulation is in."
"It's expensive to build now," said Weatherford who comparatively said that the houses at the current Home were built in 1969-71 for around $25,000 each.  "This is not just going to be a regular stick home.  We're using some of the best and latest practices out there, and a lot of that is made possible because of the Cherokee Preservation Foundation.  What Western Builders is building today is a much more technologically-advanced building that should last for many decades.  They are wonderful to work with and patient with our financial situation.
Weatherford said he is happy with the construction at the site to date.  "I'm very pleased with how they're coming along.  I think they're doing a great job over there.  I'm super anxious to get over there and start using them."
The Cherokee Children's Home was established in 1969 and has been the permanent or temporary home for over 1,700 Cherokee youth over the years.  Currently, the existing Home has six children.
"Our end result will be two homes for up to 18 children," said Weatherford.  "This will be the type of home that they have likely not lived in before.  Our program will grow and create more opportunities for these children to learn what it takes to make a great Cherokee person.  Hopefully, we can show them what a home can look like so when they are in a position to have a home and family, it will be functional and healthy."
He stressed the importance of the Home by saying, "These are the community's most vulnerable children, the ones that are in a the system now and the ones that are likely to continue that cycle unless we are there to show them something different."