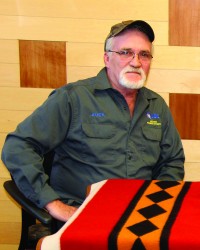 Omer "Buck" Buchanan Sr., of Cherokee, passed away unexpectedly at the Cherokee Indian Hospital on Wednesday, March 11, 2015.
Known to his friends and family as Buck, Omer was the son of the late Robert Buchanan and Bertha (Smith) Watty of Cherokee.  He was man of the Baptist faith and worked hard as a mechanic and with Qualla Housing to make his way.  He served his country by serving in the U.S. Army. He was a loving husband, father, grandfather and friend.  He will be missed.
Buck is survived by his wife of 23 years, Mrs. Patty Buchanan; children, Omer Buchanan Jr. with wife Misty, Alyssa Streets with husband Kyle, Kim Buchanan with husband Tyler, Austina Bradley, Angie Wolfe with husband Jason, Crystal Bradley, Joel Danny Walkingstick, Alisha Buchanan, Justin Buchanan, Brandon Buchanan, Dwaine George, Nicky George and Chena George; brother, Charles Buchanan; sister, Hollis Bird; 20 grandchildren and two great-grandchildren.
He was preceded in death by a son, Heath Buchanan and brother, Carroll Buchanan.
A visitation will be held for Buck in the Chapel of Long House Funeral Home on Friday, March 13 from 6-9pm with a funeral following on Saturday, March 14 at 3pm in the Chapel as well.  An immediate burial will follow the service in the Birdtown Cemetery with pall bearers being James Long, Shane Davis, Cody Buchanan, Jerry Blankenship, Thomas Lambert and Buford Smith.
Long House Funeral Home is assisting with the final arrangements.