Dr. Richard Bunio was recently named executive director of Clinical Services of Cherokee Indian Hospital.  He replaces Dr. Michael Toedt, who has accepted a detail position with Indian Health Service.  Prior to this appointment, Dr. Bunio had served as the medical director for the Cherokee Indian Hospital's Satellite Clinics for three years.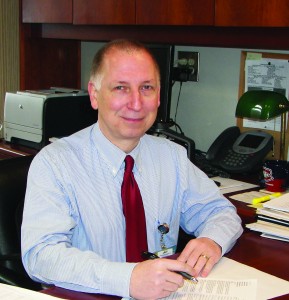 "I feel honored to serve the Cherokee community and hope to do justice to the trust placed in me by the Cherokee Indian Hospital leadership," said Dr. Bunio.  "Having said that, I am mindful of the fact that this hospital is really owned by the people of this community and it is these community members whose trust I also need to earn.  Having an entire community guiding our path is one of the greatest strengths of this health system and a source of wisdom that I promise never to ignore. I have watched the tangible results of this partnership grow in the form of a new hospital and the many exciting new programs Cherokee Indian Hospital is developing. My goal is to never stop working towards the world class healthcare system that this community deserves and a medical home they can proudly call their own."
He began his service in the Cherokee community in 1999 when he accepted a position at the Urgent Care Clinic under the Tribal Health and Medical Division. In 2008, he transferred to Cherokee Indian Hospital where he has worked to develop the new Immediate Care Center and other satellite clinics.
Dr. Bunio received his Doctorate of Medicine from the University of Manitoba in Winnipeg, Manitoba, Canada in 1987.  He completed a residency in Family Medicine at the Foothills Hospital in Calgary, Alberta after which he was certified by the Canadian College of Family Practice.  After completing his training, he stayed in Calgary where he owned and operated a solo family practice for five years. After this, he worked in Saudi Arabia, served the Inuit tribe near Canada's Arctic Circle, and did volunteer work at St. Jude's, a small rural hospital in St. Lucia where he met his wife, Donna Bradley.  He is Board Certified by the American Board of Family Medicine and is a Fellow of the American Academy of Family Practice.
Dr. Bunio is from Winnipeg, Manitoba, Canada.  He and his wife Donna have lived together in Cherokee since 1999 and now call the Whittier community home.
– Cherokee Indian Hospital