Gracia Lucille (Owle) Wilnoty, born June 18, 1935, went to her heavenly mansion on Saturday, Sept. 27, 2014.  She passed peacefully at her home with her children by her side.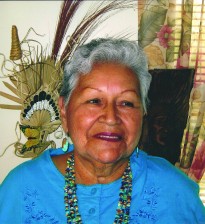 She was the daughter of the late William J. Owle and mother Lucy B. Long.  She was employed with the Cherokee Boys Club and retired after 33 years.  She enjoyed flowers of all kinds and treasured the moments she spent watching the birds feeding at her feeders. She enjoyed spending time with her famly and loved each of them. She told them everday she loved them. She was the best mom in the world who raised five children by herself, worked hard and struggled but never complained.  The children thank God everyday for their precious, pretty mom.  They know she is resting in Heaven now.  God added another beautiful flower to his garden.  They share, "We love you mom and we will miss you dearly."
Along with her parents, she is also preceded in death by husband, Marshall Wilnoty; son, Jarrett Wilnoty; a brother, William Dale Owle; sister, Dorcas E. Smith; and great-grandchildren, Emma Lee and Steven Lee Bradley.
She leaves behind to cherish her blessed memories, children, Mary Wilnoty, Marcella Wilnoty, Faralee Rich, Faye Catolster, Joseph Wilnoty with signifcant other Tammy Cagle; grandchildren, Marshall and Richard Bradley, Gene Saine, Jarrett and Cory Wilnoty, Lori Rubio and husband Mangus, Eddie Morrow and Elliott Wildcatt, Brent Lee Rich; great-grandchildren,  David, Amber and Nikki Bradley, Gracia Bradley, Jullian, Taiya and Maddox Rubio, Angel and Adam Saine; great-great granchildren, Colton Wilnoty, Joecelina Wilnoty, Jaden Bradley and Indica Bradley, all of Cherokee.
A visitation was held on Monday, Sept. 29 at the Yellowhill Baptist Church.  A funeral will follow on Tuesday, Sept. 30 at 2pm at Yellowhill Baptist with the Rev. James "Bo" Parris and Rev. Roland Whittaker presiding.  An immediate burial will take place in the Lucy B. Long Cemetery on Lucy Long Rd. with the Pall Bearers being among the Grandsons.
Long House Funeral Home assisted the family in the arrangements.