Mark Donald Mead, 49, of Cherokee, and formerly of his birth home Warren, Mich. and recently of Fairveiw, NC passed away unexpectedly on Monday, Sept. 15, 2014.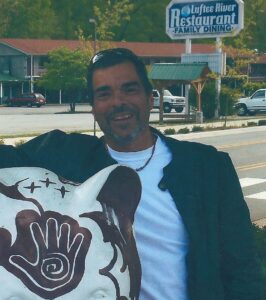 He was the son of the late Jay Donald Mead and surviving mother, Sara Jane Catt of the Wolftown community in Cherokee.  Mark was a wood craftsman of home interiors and had recently moved to the Cherokee area to be closer to his mother.
He is survived by his children, sons, James Donald Mead, Ricky Edward Mead and daughter, Jessica Ann Mead all of the Asheville/Fairview communities; two brothers, Jeff Bush of Shelbyville, Tenn. and Michael Mead of Melber, Ky.; sisters, Taya Houser of Shelbyville, Tenn. and Donna Mead of Pittsburgh, Pa.; one aunt, Shirley Ironshell of Rosebud, SD; one uncle, Robert Catt of Whittier; six grandchildren, Nahla, Amayla, Mariah, Sophia, Major and Maleke.
Mark was preceded in death by grandmother, Betty Lois Queen and grandfather, Robert Boy Catt.
A memorial service will be held for Mark on Friday, Sept. 19 at 6pm in the Chapel of Long House Funeral Home, in Cherokee at 407 Wolftown Road.  The family will recieve friends and other family one hour ahead of the memorial service starting at 5pm.  The service will be officated by the Rev. James "Bo" Parris of the Big Cove Missionary Baptist church.