By ROBERT JUMPER
ONE FEATHER EDITOR
The Cherokee Indian Fair will take place Oct. 7-11 at the Cherokee Indian Fairgrounds. The Destination Marketing Department has prepared the lineup for this year's event. The theme for this year's Fair is Cherokee People:  Our Legends and Tales.  Each week, leading up to the Fair, the Cherokee One Feather will print a day schedule showing all the activities at the Fair.
The third day (Thursday) is traditionally known as "Elders' Day". Each day of the Fair has its own unique theme. All men and women ages 59 years and up have free admission on this day. The day will begin at 11am with the posting of colors by Steve Youngdeer American Legion Post 143 veterans, followed by the National and Eastern Band of Cherokee Indians anthems. The elders will be treated to lunch beginning at 11:30am. Activities for the elders will include, bingo, concert by Robert Wolfe, a square dance performance, a concert by Soco Creek and an elder's corn hole tournament.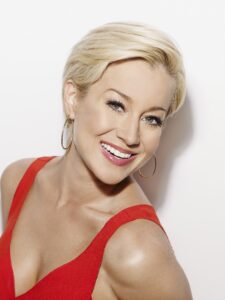 The exhibit hall displays, including the Agricultural Extension Office contest entries, Community displays, Veteran remembrance display and Qualla Arts and Crafts Cooperative contest entries, will all be available for viewing throughout the day. Carnival rides will be running on schedule for Thursday as will be the food and craft booths.
The will be two men's stickball games on Thursday. Teams are to be determined at a later date.
Young ladies will compete for the crown of Junior Miss Cherokee beginning at 6pm. Competition includes traditional clothing and talent competitions.
At 8pm, American country music artist and television personality Kellie Pickler will take the Cherokee Fairgrounds Amphitheatre stage.  Pickler is a singer/songwriter from Albemarle, North Carolina who placed sixth in the hit television show, American Idol– season five. Her albums include "Small Town Girl", "Kellie Pickler", "100 Proof" and "The Woman I Am". She sung the top 10 country hit, "Best Days of Your Life", which she co-wrote with Taylor Swift. In addition to her singing and songwriting talents, Pickler appeared on Dancing With The Stars, where she won the mirror ball trophy as best dancer in season 16.
To finish out the night, the second round of Cherokee Idol will take place after the Kellie Pickler concert. Hosted by Chris Watty, local singers will compete for prize money and the honor of being named the 2014 Cherokee Idol.
Nikki Nations and Joletta Crowe are the organizers for Elder's Day and may be contacted via email at lawanati@nc-cherokee.com and charcrow@nc-cherokee.com, respectively; phone at the Cherokee Welcome Center, 828-554-6490. General questions about the Cherokee Indian Fair should be directed to Howard Wahnetah (828-554-64571 and howawahn@nc-cherokee.com) or Frieda Huskey (828-554-6492 and friehusk@nc-cherokee.com).
Thursday schedule
11am – Gates/Exhibit Hall open, Color Guard, National Anthem and Cherokee Anthem
11:30am – Food blessing and Elder meal
12:30pm – Basket drawing
12:45pm – Alfred Welch
1:15pm – Bingo
2:15pm – Robert Wolfe
3pm – Square Dancing
3:15pm – Soco Creek
4pm – Elder's Cornhole, Men's Stickball
5pm – Men's Stickball
6pm – Junior Miss pageant
8pm – Kellie Pickler concert
9:30pm – Cherokee Idol
10pm – Gates close