By SCOTT MCKIE B.P.
ONE FEATHER STAFF
Birdtown Crossing's new release, entitled "Singing in the Sky", hits the mark as a solid recording that will leave any listener only wanting more.  The group, which is based in Cherokee, NC and has been traveling the pow wow circuit since 1998, sings songs in the Northern Plains style (well, mostly).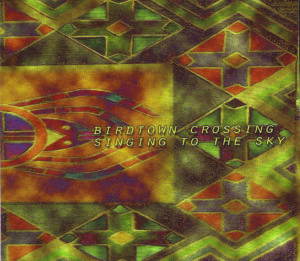 The opening track of "Singing in the Sky" threw me to be honest.  As a grass dancer, I've had the pleasure to dance to these guys for years, and I've always known them to be a strong northern drum as well as excellent round dance singers.
But, the opening track, entitled "Oklahoma Love", is, well, a southern plains song.  And, it's sung really, really well.  But, that shouldn't surprise me as they are excellent singers.
They follow that up with a nice, smooth northern song entitled "Rattlesnake Mountain" that includes words, as do a lot of the songs on the album, in the Cherokee language.
Lead singer John Grant Jr., who has sung with drums across the country, composed the songs on the album.  He is joined on the album by Birdtown Crossing members Antonio Grant, Randy French, Kerri Reed, James Powell, Joseph Toineeta, Charles Mesteth, William Mesteth, Jeremy Mesteth, and Catcuce Tiger.
One of my favorite tracks on the album is the namesake "Singing in the Sky" which just rocks from the get-go and would surely get anyone up off the bench or out of the arbor and into the arena on a nice, crisp pow wow night.
A couple of other noted songs are track 6, a double beat song entitled "Koga", and track 8, a round dance song entitled "Gage Yu", a smooth song which states "how many horses does your daddy want for your hand?"
The only thing I think this album is missing is more detailed liner notes.  I know that when people hear these songs, they'll want to know what the words and translations are (just a thought for your next album).
Speaking of which, I know for sure I'd love to hear a live album from these boys…hint, hint.
Pick up a copy of "Singing in the Sky"…you won't be disappointed.