By SHEENA BRINGS PLENTY
I hope you all had a great Mother's Day! This week, I decided to continue with the chocolate theme from last week and make some awesomely delicious truffles!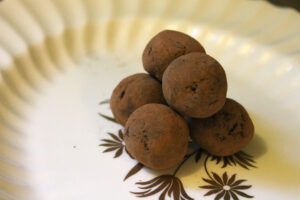 A lot of people get truffles confused with bon-bons. Truffles are solid balls of chocolate ganache that are flavored and coated. Bon-bons have a thin chocolate shell surrounding a filling such as caramel, liquid fondant, peanut butter, or a fruit jam.
This recipe is for basic dark chocolate truffles. Variations to this recipe include swapping a different flavoring for the vanilla (such as almond, coconut, or rum), and changing the coating to something other than the cocoa powder (such as powdered sugar, toasted coconut, crushed almonds, or melted dark, milk, or white chocolate) to reflect and compliment the flavor within. Some crazier flavors include cayenne pepper, wasabi, and garam masala. These are just a few suggestions. Feel free to experiment and have fun coming up with crazy flavors!
Yield: About 48 truffles, 1-inch in diameter
Dark Chocolate Ganache
16oz high-quality dark chocolate (Such as Ghiradelli or Lindt), chopped or broken into pieces
16oz heavy whipping cream
1 teaspoon vanilla extract (or other desired flavoring)
2 Tablespoons cocoa powder (or other desired coating)
1. Place the chocolate pieces into a medium glass bowl. Bring a pan of water to a low simmer and place the chocolate on top. Gently melt the chocolate, being sure not to scorch it.
2. In a medium saucepan, slowly heat the cream over medium-low until steamy. (Be careful not to scorch the bottom.) Once it is steaming, pour the cream over the chocolate and whisk the two together until they have come together as one mixture. Whisk in the vanilla.
3. Allow the mixture to cool on the countertop until it has begun to set up, about 45 minutes. Cover the bowl tightly with plastic wrap and chill for about 2 hours, depending on your refrigerator. (You don't want it to be steaming when you put it in the refrigerator to set up because the steam will condense on the plastic wrap and could ruin your ganache. Chocolate and water do not mix!)
4. Line 2 sheet pans with parchment paper. Once the ganache has set up and is hard enough to handle, use a small ice cream scoop to measure out individual balls, about 1-inch in diameter. (You can use a normal dinner spoon as well if you don't have a small ice cream scoop. The scoop just ensures consistent sizing.) Roll each between your hands into a neat ball and place each on the prepared sheet pans.  (You may want to use disposable gloves to do this job as it is pretty messy!)
5. Once you have all the balls rolled, place the cocoa powder into a bowl. Put a small amount of the cocoa powder onto your hands (again, you may want to use gloves) and gently roll one of the ganache balls between your hands to transfer a thin coating of the cocoa powder onto it. Place it back onto the sheet pan and repeat with the remaining balls. (If using melted chocolate, use the same technique but be careful not to burn yourself. Before you serve them, allow the coating to set up by placing them in the refrigerator.)
5. Once you have finished all the balls, cover the trays with plastic wrap and chill in the refrigerator until ready to serve. The truffles will last up to a week, covered, in the refrigerator.
Sheena, who resides in the Yellowhill Community, holds a degree in baking and pastry arts from Sullivan University.