By ROBERT JUMPER
ONE FEATHER EDITOR
WAYNESVILLE – On Saturday, May 3, in Waynesville at Green Hill Cemetery, members and guests of the Colonel William Holland Thomas SCV Camp 2231 remembered the life and service of Colonel Thomas. William Holland served as Chief of the North Carolina or Qualla Town Cherokee (today's Eastern Band of Cherokee Indians) in 1839.
At 1pm, family and descendants of the original members of Thomas's Highland/Cherokee Legion joined members of Camp 2231 in the remembrance ceremony. Cherokee warriors were members of the Legion under the leadership of Colonel Thomas.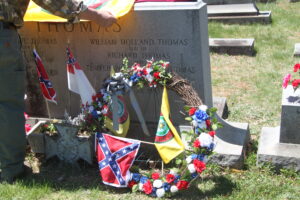 A color guard-John Myers, Kim Myers and Harold Franklin-posted colors and the gathering was lead in prayer by Adjutant Doug Knight to open the ceremony. Opening remarks were made by Commander Ron Green. Other camp members in attendance were Anthony Messer and Billy Messer.  The organization's historian, Billy Messer, read excerpts from Bushwhackers: The Civil War in North Carolina-The Mountains by William Trotter (1991, John F. Blair Publishing, Winston-Salem, NC). He summarized the life of Thomas; his life influenced by the Cherokee people and his adopted father, Chief Yonaguska. His description included Thomas's devotion to the culture and people. He studied Cherokee history, stories, and traditions and learned the Cherokee language.
Messer stated that William Thomas "had a love of the Cherokee tribe and fought for their right to remain in their homeland". He also noted that at one time, all of the land in Western North Carolina belonged to the Cherokee.
The ceremony concluded as the color guard placed a wreath at the grave of Colonel Thomas. This is an annual ceremony observed by the Sons of Confederate Veterans organization on or near the anniversary of the passing of Thomas. William Holland Thomas died on May 10, 1893.