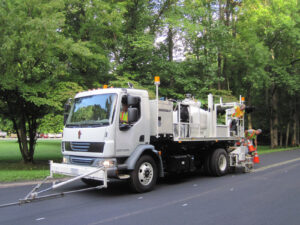 A contractor for Great Smoky Mountains National Park will perform striping operations in Tennessee beginning Monday, May 5 through Thursday, May 22 along the Spur, Little River Road from Sugarlands Visitor Center to Townsend, the top two miles of Newfound Gap, and Elkmont entrance road.
Operations will be completed between 7a.m. and 12a.m. on Monday through Thursday. Weather delays due to rain could cause the project to continue beyond May 22. During the operation, traffic will be reduced to one lane for short sections. Motorists should use caution when they encounter the road striping operations and pay close attention to traffic control devices along the roadway.
For more information about road conditions, please visit the Park's website at 
www.nps.gov/grsm
 and or call the Park's Road and Weather Information Line at (865) 436-1200.
– NPS