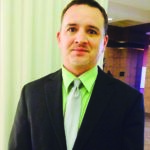 TW Saunooke, Yellowhill School Board Rep., has been elected to the North Carolina School Board Association (NCSBA) Board of Directors for a two-year term. This election was held in Greensboro in November 2013 during the NCSBA General Assembly.
Saunooke is the first EBCI tribal member to be selected to serve on the NCSBA Board of Directors. He is on the Goals and Directions Committee and the Conference Planning Committee. The Goals and Directions Committee is getting ready to work on a commercial for "What Is Great in Public Education".
The Cherokee Central School Board joined the National School Board Association in 2012, and all members of the Cherokee Central School Board are planning on attending the National School Board Association National Conference in April.
– Cherokee School Board