Great Smoky Mountains National Park officials are offering a reward for information regarding the recent theft of an antique window from a historic cabin in the Elkmont Historic District. The window was discovered missing in late January resulting in a significant loss to the unique features that characterize the cabin.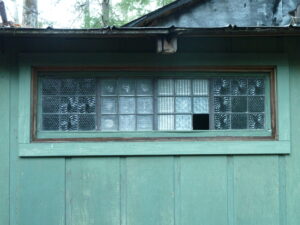 "This is a very sad case of vandalism and theft," said Chief Ranger Clay Jordan. "The people who did this have stolen a piece of our shared history that can never be replicated."
Park officials are offering a $1,000 reward for information leading to the arrest and conviction of the individuals responsible for the theft. 
The missing window was from the former summer home of a Knoxville glass maker featuring an intricate and unusual design. The entire 4 feet x 1 feet glass window is missing from the frame which includes 34 individual glass panes, each measuring 4 inches x 4 inches. Two of the original 36 glass panes were missing prior to the theft of the entire window. 
It is unlawful to disturb or deface natural and historic resources within the Park. Perpetrators may be sentenced up to six months in jail and or fined up to $5,000. Anyone with information as to the possible identity of the individuals responsible for the theft is encouraged to call the tip hotline at (865) 436-1580. 
The Elkmont Historic District was placed on the National Register of Historic Places in 1994. Upon its registration as a Historic District, it was comprised of 74 cottages, outbuildings and the Wonderland Hotel with 49 of the structures noted as being of significance to the District. 
For more information about historic buildings in the park, please visit the park's website at https://www.nps.gov/grsm/planyourvisit/historicbuildings.htm.
– NPS