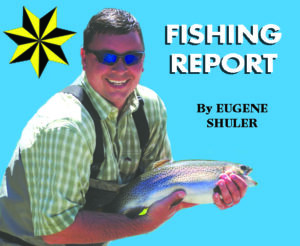 Picking the perfect fly rod may be harder than you might think. Ask any fly angler in the Smoky Mountains what fly rod is best, and there is no telling how many different answers you will get. There are several factors you must consider when choosing a fly rod, let alone, trying to figure out what all the jargon on the side of a fly rod means. Choosing the perfect fly rod will need to be a two part article, as there is much to know.
The most common question is what length fly rod is best. This really depends on where you will be fishing. Generally speaking the larger the stream or river, the longer fly rod you will need. However longer fly rods are a huge advantage when fishing many medium sized streams too. The extra length of a fly rod helps you with fly placement and mending line. Keeping line upstream of your fly in order to get the flies to drift naturally through the water is key to catching trout. Longer fly rods also help with setting the hook. The longer the fly rod, the faster you can set the hook. Wild trout found here in the mountains strike very quick, so we need all the help we can get! On large water like the Tuckasegee River and Nantahala River, most fly anglers like to use either a 9′ or 10′ fly rod. For small streams such as ones in the Great Smoky Mountains National Park, you can't get a long fly rod threaded through the bushes and laurels walking in, not mention try to cast it in the thick canopy. Of course a shorter fly rod are best in those situations. Rods of 6′ -7.5′ are the norm on the smaller creeks. Streams such as Deep Creek and Noland Creek, an 8′ to 9′ fly rod is perfect.
Fly rod action is also a topic of varying preferences and opinions. You have soft action rods to very fast rods, and everything in between. It honestly can be confusing for the uninitiated.  One thing is for certain; if you cannot feel a fly rod loading under the pressure and weight of the fly line, it will be difficult to make good fly casts, especially when you're just learning. Avoid very fast rods if you are just getting into fly fishing, or fishing where you will be making shorter casts. A good starting point is to cast rods that are designated as Medium to Med-fast action. These rods allow you to feel what is going on with your cast and will offer the best of both worlds.
Rod action and length are personal preference, and there is no right or wrong, only what you feel will be the perfect tool for you. If you are in the market, make sure to test cast several before deciding on your next "weapon of mass fish destruction"! What is right for one person, may not be right for you.
The Tuckasegee River and Nantahala River Delayed Harvest sections will be stocked this week with massive amounts of Rainbow, Brown, and Brook trout. The fishing will be incredible for the next several weeks on both stretches! The rivers in Cherokee are stocked twice each week, the most of any streams in the southeast, and fishing season is open in Cherokee during March!
Quill Gordons, the first major mayfly hatch of the season, are upon us. The Tuckasegee , Nantahala, and Oconaluftee Rivers have already begun seeing good hatches of "Gordons" this past week.  We expect the lower elevation streams in the Smokies to be  seeing them any day now. The best trout fishing again this week will be from 9:00am until just before dark. The portions of rivers and streams which get full sun early in the day will offer the best fishing as the water tends to warm here first, and the best insect hatches will occur there. Overcast skies this will bring Blue Winged Olives  and Caddis hatches. Anglers should see some good dry fly activity late in the afternoon until dark. Other productive fly patterns will be Blue Duns #14-18, Little Black Caddis in #16-18, Black Caddis Pupae in #16-18, Little Winter Stonefly nymphs in #16-20, Little Winter Stonefly dries in #14-18, Blue Winged Olives in #18-22, Quill Gordons in #12-14, egg patterns in #10-12, Rainbow Warriors in #14-20, and black midges in #22-26. For Streamer patterns try black and olive Woolly Buggers in sizes #6-8, dark brown Sculpins in #6-8, and black Rabbit Strip Zonkers in #6-10. Work your streamer flies with short fast strips combined with a slight pause between strips through likely holding water. The faster mid sections of the stream will be good for Rainbows, and Browns will be along the slower water next to ledges, logs, and drop offs.  During midafternoon, actively feeding fish will be in the tail-outs of long pools and riffle water looking for Blue Winged Olives, Quill Gordons, Blue Duns, Little Winter Stoneflies and black Caddis.
Fontana Lake is hot this week for Walleye, Smallmouth, Largemouth, and Crappie. The top choice for bank fishing is still catching fish with live night-crawler rigs working the along the edges of the shoreline. Working Pig and Jig with football head jigs down muddy banks and points next to deep drop offs are pulling in good sized Largemouth. Smallmouth bass are being caught in 30-45 feet of water near rocky bottoms and rocky cover with Carolina Rigged worms. Walleye are still best caught by jigging live night crawlers deep near rock walls, and trolling deep running crank baits and plastic minnows near creek and river mouths. Depths of holding Walleye are varying all over the lake, but is dependent on thermocline temperature.
Remember to check area fishing regulations as March Madness applies to fishing too. Regulations and season closures will vary between watersheds and designations. Know the regulations before you make that first cast.
See you on the water!