REVIEW By KINA WILNOTY SWAYNEY
ONE FEATHER REVIEWER
King's chronicle of North American Indian history reads more like a story than a historical account you would find in a history book.  King's fundamental premise in The Inconvenient Indian is that Indians have always been seen as obstacles to white expansion, thus "inconvenient" to the overall goal of white settlement and economic development of North America.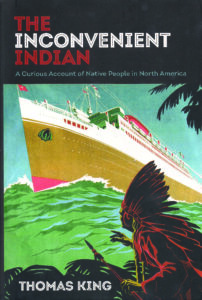 He takes a comprehensive approach to his account by examining policy affecting Indians in both the United States and Canada.   To North American Indians in the 1800s, the border between the United States and Canada was an imaginary line that divided North American Indians into two countries with two different national policies.  His assessment shows that over time, Indian policy has changed very little since the 1800s.  He spends time laying the foundation of how Indians were viewed in the 1800s and the disdain white Americans felt toward Indians.
Today, says King, we're regarded as relics of the past and we're often viewed with the same disdain felt toward Indians in the 1800s.  You could very well call us, "the invisible Indian", still inconvenient, but invisible as well. We've been marginalized, ignored and once again, exploited.  King says it may be unfair, but necessary, to judge the present by the past.
King takes us through the encroachment of land, removal and relocation, assimilation using residential school systems to accomplish it, termination and back again, as Indian policy in both countries repeats time and again.  Each time Indians of both countries have lost land and cultural identity.  He does this to show how policy repeats, not to account for the wrongs done in the past – that we know.  History has seen Indians pushed to the far corners of the continent onto what was thought to be worthless land.  At present day, some of this land has proven to possess tremendous resources and is being developed at the peril of Indians.
In King's opinion, "If we retain one parcel of land and one morsel of sovereignty to protect our self-determination, corporate North America will come for it."  King says, it was land at the center of the dispute then, it is land now, and it will always be the land.  He maintains that we could see our land base and our economic development, so controversially brought about by gaming, wane over the years.  King calls casinos "the new buffalo" and suggests we focus on maintaining our enrollment and economic base as a means of survival, independent of gaming.
King frames the outlook of the future of Indian policy by saying that it will remain the same as we see the cycle repeat again and again until Indian land is slowly chipped away, slowly but surely, and with each generation losing cultural identity.  There is no gain or benefit in doing nothing.  We must, he says, "decide if maintaining our identity is worth the fight or should we take the easy way out, step back from who we are, and who we wish to be, and sink into the stewpot of North America".
He poses a very intriguing scenario, and while he attempts to frame the outlook for North American Indian policy, he comes up short on how native people are to accomplish this.  His account leaves you wanting more as he simply concludes that Indian policy over the next few generations will indeed be a curious account.  Does that mean we continue what many see as the paternalistic relationship with the federal government and maintain the status quo with what many see as quasi-sovereignty?  Should we strengthen our resolve within the current construct of national policy?  Recent wins in land claims indicate this shows the resiliency and tenacity that have ensured Indian survival through the reoccurring cycle of Indian policy.
For non- Indians, this account will challenge your assumptions of what you thought you knew about native history and for Indians, perhaps it will cause us to consider the future of Indian policy and how we can preserve our culture, traditions as well as our land base and ability to determine our own destiny in a modern society.   This is an insightful account and a must read for those interested in a comprehensive examination of national policy on Indian affairs and a must read for those interested in viewing the history of North American Indians with a candor and honesty not found in a text book.
Thomas King is a scholar, an award winning writer, photographer and professor of English at the University of Guelph, where he teaches Native literature and creative writing.  This account is a cumulative effort, spanning years of research, personal experiences, and lengthy discussions with historians and colleagues.
Swayney is an EBCI tribal member and retired as a Lt. Col. from the U.S. Army.