WAYNESVILLE – Joseph "Joe" Glenn Hipps, age 81, passed away Monday, Nov. 25, 2013 at his home in Raleigh.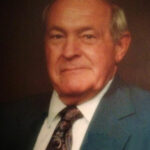 A native of Haywood County he was the son of the late Robert Glenn Hipps and Leila Wright Hipps of Lake Junaluska.  He was also preceded in death by a son, Brian C. Hipps.  Joe was a 1951 graduate of Waynesville Township High School and also a graduate of Western Carolina University.  He taught and coached for ten years in High Point and Durham and during the summers, served as Theater Manager for "Unto These Hills" in Cherokee.  He then began his Federal government career of more than 26 years with the Department of the Interior, serving with the National Park Service at the Oconaluftee Job Corps Conservation Center in Cherokee and Harpers Ferry, WV; youth programs in Washington, DC; and the Bureau of Reclamation, Director of Youth Programs in Washington, DC and Denver, Colo.  Joe retired in 1990 and resided in Lake Junaluska until May 2012 when he moved to Raleigh.
He is survived by his wife of 27 years, Carolyn Glover Hipps; one daughter, Debra A. Hipps of Waynesville; two sons, J. Barry Hipps and wife, Judy of Bryson City; and Timothy G. Hipps of San Antonio, Texas; a stepdaughter, Kim G. Manning of Raleigh; five grandchildren, Robert Woodard of Cary, Anna E. Hipps and J. Travis Hipps of  Chapel Hill, Betsey Flack of Dalton, Georgia, and Danielle Hipps of Savannah, Georgia; and one great-grandchild, MacKenzie Woodard of Cary.
A memorial service will be held at 2p.m. on Saturday, Jan. 11 at Long's Chapel United Methodist Church with Reverend Dr. Charles W. Wilson, II officiating. The family will receive friends from 12:30-1:45 p.m. prior to the service at the church.
Memorials may be made to Hospice of Wake County, 250 Hospice Circle, Raleigh, NC  27607 and Long's Chapel United Methodist Church, P. O. Box 459, Lake Junaluska, NC  28745.
An on-line memorial register is available at "Obituaries" at "www.wellsfuneralhome.com"