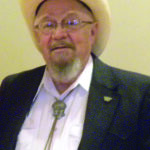 Robert J. Conley, the Sequoyah Distinguished Professor of Cherokee Studies at Western Carolina University and the author of over eighty publications is about to release yet another novel, The Brothers, on Oct. 15. Conley is a three-time Spur Award winner, the latest in 1995 for his novel The Dark Island published by Bantam Doubleday. Goldminds Publishing was recently honored by the National Cowboy Hall of Fame with the Western Heritage Award.
The Brothers depicts the story of a half Cherokee and Civil War veteran, Captain Skylar Garret. Garret returns to the home of Phillip Garret, his white father, seeking an inheritance that he believes to have belonged to his late mother. Intertwined now into the lives of his three half brothers – one a vocal atheist, one an aspiring minister, and the other a black slave boy who Phillip Garret doesn't claim – Skylar finds himself in more than a quarrel for money, but also in the middle of a love triangle with his own father, and ultimately on trial for patricide.
The Brothers is based on the classic Russian novel Brothers Karamazov will be released in hardcover and eBook. It will be available for early review through NetGallery.
Info: Steven Anderson, Director of Marketing and Publicity, at steven.anderson@goldmindspub.com. 
– Roseanna Belt, WCU Cherokee Center