Four EBCI tribal members, all 100 years old or older, have been chosen to be the Grand Marshals at the Cherokee Indian Fair Parade on Tuesday, Oct. 2.  Following are their bios:
Luke Hardin
At 100, Luke Hardin lives in Knoxville with his wife of 73 years, Mamie. Mr. Hardin grew up in Andrews, N.C. where his Cherokee grandfather settled after walking across Snowbird from Cherokee. An avid and passionate gardener, Mr. Hardin worked the land at his family's home-place growing vegetables of all sorts, especially potatoes, in the sandy soil. Mr. Hardin served in World War II and the Korean War, and he retired from the post office in Knoxville.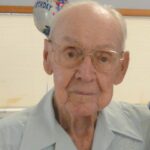 He is the father of four children and boasts eight grandsons, a granddaughter and three great grandchildren. Known as a man who always enjoyed helping other people, Mr. Hardin and his wife are longtime members of the Alice Bell Baptist Church, having joined in the 1950s.
Mr. Hardin has always wanted to live until he was 100, and he isn't surprised he's lived as long as he has, given he had aunts and uncles who lived well into their nineties.
Carie Mae Sneed Robinson
Carie Mae Sneed Robinson, who turned 104 on July 18, grew up in Cherokee and attended the Cherokee Boarding School as a young girl. A self-starter, Ms. Robinson taught herself to read and write, she owned several small businesses and retired from the Indian Health Service where she served as a dietician.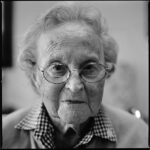 While she currently resides in Cherokee, Ms. Robinson and her young husband who worked for the U.S. Forestry Service moved to Ashland, Wisconsin where she gave birth to her son, Nathan.  Shortly after, her husband was killed in the Philippines while serving in World War II. After moving back to Cherokee, she began working with the Indian Health Services while she also began a small cabin rental business. She owned a service station and grocery store, and in the 1950s she acquired eight rental properties. She purchased a pre-fabricated home out of Chattanooga, and her son Nathan is beginning the process of restoring and renovating the home.
Ms. Robinson has two grandchildren and five great grandchildren. She loved to sew and fly fish, and would spends hours on the streams casting when she was younger. After she retired, she traveled across the U.S. and to foreign countries with the Senior Citizens Club. She has been a member of Cherokee Baptist Church and the Acquoni Baptist Church.
Never thinking she would live to be 100, Ms. Robinson says good genes and moderation are the key to her longevity.
Mary Matthews Treadway
Mary Matthews Treadway was born Sept. 13 1910l, which makes her 102 years old. Her parents were Leni and Lillie Mathews of Cherokee, North Carolina. They lived at Tow String.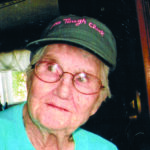 She was born at the Mary Lambert Farm, and she has two sisters and two brothers. Mary is the only one of her family still living. She was married to Lawson Treadway, and they had six children: Able, LeRoy, Vernon, Louise, Lucille and Seab. Able, LeRoy and Vernon went to the Cherokee School.
Mary loved to put a fair table in at the fairgrounds, where they gave a first prize of $25. Second prize was $15 and third was $10, and that was a lot of money at that time. Mary would take her family to the fair on Saturday and look at all the tables at the fairgrounds. They would have potatoes, canned goods and pumpkins, and all the stuff you grew on the farm. The family would look at all of the cattle, hogs and children.
After that, the family would watch the Indian Ball Game. The kids would get a ride on the Ferris wheel. One game Mary liked to play was to pitch nickels into the 'bunch of bowls'. The bowl you pitched money into was the bowl you got to take home. If you were lucky, says Mary.
Mary used to work in the kitchen for Miss Lambert at the school. She remembers they had their own dairy barn, where they got their milk and beef. The older boys would work at the dairy barn for a certain amount of hours a day. Where the new school house is, she remembers that is where the big garden was, and they grew all the garden vegetables.
Mary's family had a big apple orchard, which was up on the hill from the fairgrounds. They would put the apples the cellar, where they would keep all winter. The young girls had a cottage where they stayed all night and learned how to cook.
Mary has 15 grandchildren and lots of great grandchildren and great, great grandchildren.
The accompanying photo was taken at Mary's 100th birthday.
Lou Belle Payne Ledford
Born March 5, 1912 in Isabella, Tenn., Lou Belle Payne Ledford is the daughter of Maryann Rose and Lish Payne. She had three sisters and two brothers, and they grew up in the Tellico River area.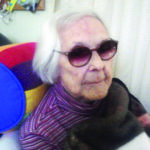 Music was a big part of her life, and she and all her siblings played a stringed instrument. Lou Belle played the guitar and banjo until she was 98 years old, and even today she plays the harmonica. She attended Prospect Church in Violet, North Carolina, with her mother, and they rode to church on horseback. She attended school at Buck Knob near the Appalachia Lake area.
Lou Belle had five sons and raised at least two of them in the Great Depression. She was a big coffee drinker, and she once told her granddaughter Lisa Ledford that during the great depression, all they had to live on was coffee and cornbread. During the Great Depression she moved with her husband up North so he could work in a coal mine.
She is a very independent woman who has lived her life to the fullest. She loved to travel and spend most of her time as a housewife. She resides in Murphy, North Carolina today.
– Cherokee Indian Fair Committee