Robert Warren Claxton, 87, of Bryson City, passed away on Sunday, July 29, 2012 at an Asheville assisted living facility.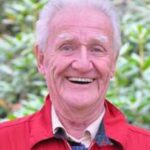 Born February14, 1925 in West Plains, Missouri, the son of Henry Curry Claxton and Maude Davis (Benton) Claxton, Bob lived in Whittier, Cullowhee, and Bryson City after graduating from Western Carolina University where he met his wife Phyllis Olene (Dillard) Claxton who predeceased him. Both received a Master's in Education at Vanderbilt University's Peabody College before returning to Western North Carolina. Bob taught 8th grade at Bryson City Elementary and was Principal at Qualla Elementary. He was an Elder of the Bryson City Presbyterian Church where he was a member for almost sixty years. He was an avid athlete playing on the WCU basketball, track and tennis teams, industrial league fast pitch softball, and golf. Mr. Claxton was an advocate of Senior Games in which he and his wife participated, winning medals in numerous events at the NC Senior Games. He was a member of the Sylva Moose Lodge and Vice President of Research and Development for The Cherokees Manufacturing Co. for almost 30 years.
     He is survived by four sons, Dr. Mike Claxton and his wife Deb of Pasadena, MD; Mark Claxton and his wife Melissa of Bryson City; Steve Claxton and his wife Becky of Bryson City, and William Claxton and his wife Leslie of Marietta, Ga; one sister, Julia Phillips and husband Joe of Cowpens, SC; nine grandchildren and three great grandchildren.
     A Celebration of Life service will be held at 11am at the Bryson City Presbyterian Church on Friday, Aug. 3. The Rev. Terry Hanna will officiate and the family will receive friends after the service in the church fellowship hall.
     In lieu of flowers, memorial donations may be made to the Bryson City Presbyterian Church, PO Box 549, Bryson City, NC 28713.
     Crisp Funeral Home is in charge of the arrangements.