Friends of the Great Smoky Mountains and the Backcountry Horsemen of Big Creek recently sponsored a stock-oriented, Leave No Trace Master Educator course and Leave No Trace Backcountry Packing Clinic in Great Smoky Mountains National Park.  Leave No Trace (LNT) is an outdoor ethics program that trains all users to minimize impacts in the backcountry.  The stock-oriented LNT courses specifically provide training in common practices and proven methods to reduce stock impacts.
     The Master Educator course focuses on minimum impact general stock use in both backcountry and frontcountry settings. Upon completion of the Master Educator course, students are certified as LNT Master Educators and can present programs, teach classes and certify others as stock-oriented LNT trainers.
     Instructor Bob Hoverson has been a professional packer and stock manager for 42 years and has taught LNT for over 20 years.  "Leave No Trace is about preserving our privilege to use stock on public lands by learning to minimize our impacts as much as possible," says Hoverson. "All backcountry users should ask themselves, 'Am I always doing everything I can to protect the land and respect other users?'"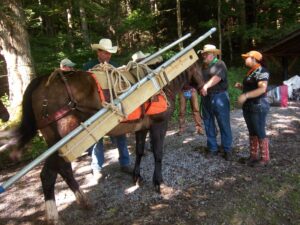 In addition to teaching minimum impact techniques, the Backcountry Packing Clinic also teaches students how to pack mules and horses in the safest, most efficient manner possible.  The course ends with an overnight pack trip, during which students have the opportunity to demonstrate newly acquired packing skills.
     This is the first time the Packing Clinic has been taught east of the Mississippi. It is only the second time the stock-oriented Master Educator course has been taught east of the Mississippi and is a first in the Deep South region.
     Info: Christine Hoyer 497-1949 or Melissa Cobern (865) 436-1264.
– NPS