Harrah's Cherokee Casino & Hotel hosted a Dine-Around on Tuesday, July 2, a media event for various media sources from around the Southeast.  This first time ever event highlighted diverse samplings of top culinary selections from each menu of five of its restaurants.
    
     As the group traveled through each restaurant, a member of the restaurant's leadership team described the history of that particular venue and the selections served.
 
     The Dine-Around's first showcase was Paula Deen's Kitchen.  General Manager Brooks Robinson greeted the media group, stating, "Harrah's Cherokee has some of the best restaurants in Western North Carolina and we are looking forward to the exposure and excitement our Dine Around event will generate. With the imminent completion of the expansion, we are able to offer something for everyone's dining tastes and budget."
 
     Paula Deen's Kitchen is known for Paula Deen's special style of cooking and Southern hospitality.  It was Harrah's Cherokee first new restaurant to be introduced as part of a three-year expansion program.  Created as a full-service, Paula Deen's serves á la carte style.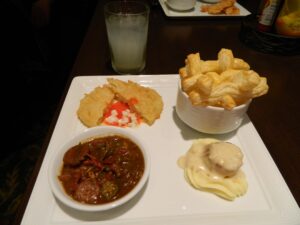 Secondly, the media group visited the Chefs Stage Buffet. The Chefs Stage Buffet is a family-friendly restaurant that offers tastes from around the world with Italian, Mexican, Asian, Comfort Food, Barbeque, Soup & Salad bar and Desserts of the World.
 Third stop – the Food Court.  For a quick bite around the casino, the Food Court is the place to go.  The court features Dunkin Donuts, Winning Streaks Deli, Uno's, and Johnny Rockets. 
 
     The fourth stop was Ruth's Chris Steak House, recognized for its quality steaks and seafood selections. 
     "Our team is really excited to welcome new guests to enjoy the famous Ruth's Chris signature sizzle at Harrah's Cherokee," said Ruth's Chris Steak House General Manager, Paul Delgado in an earlier press release.  
 
     The BRIO Tuscan Grille rounded out the last showcase of the Dine-Around.  The BRIO, translated from Italian means "full of life," is renowned for its authentic Northern Italian specialties.
 
     Newly opened on June 29, the Grand Rotunda was the finale of the media event.  The group viewed the twin waterfalls and an enormous panoramic digital screen (140 foot-long LED screen) which featured three Cherokee legends: What the Stars are Like, The First Fire, and The Origin of the Milky Way.
 
     In her closing comments Vice President of Marketing Leeann Bridges proclaimed, "We are excited to have several choices with broad appeal for our guests, from brands like Brio & Ruth's Chris Steak House to our own Chefs Stage Buffet & Paula Deen's Kitchen.  It was a pleasure to be able to introduce our new offerings at our first ever media Dine-Around."
-RJ Jones