Four months from the 100th Anniversary of the Cherokee
Indian Fair, several Cherokee elders remember past Fairs
TEXT and PHOTOS By SCOTT MCKIE B.P./One Feather
Bessie Wallace
     "The Indian Fair, or Fall Festival, is for bringing families together and reuniting your acquaintances," said Birdtown elder Bessie Wallace.  "To me, the most important thing is entering the craft contest or the baking contest."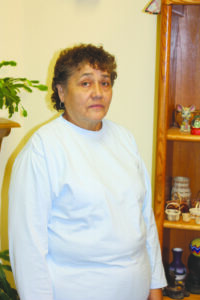 She said she is amazed each year at the Fair to see what crafts people make or what type of baked goods have been entered. 
     Wallace said she is hoping to get back to archery and shooting a blowgun, two activities she enjoyed as a youth and young adult. 
     She recalls her days going to the Birdtown Day School.  "That's where I first got my start with the Indian Fair.  We all had to take our favorite canned food, and the teachers would enter it for us at the Fair." 
 
     Wallace said they would win a small prize of around 50 cents, "But, it was challenging to compete with other students in the class." 
 
     She said many things have changed at the Fair since she was younger.  "The stickball games were more interesting because we had them right there at the grounds." 
 
     Jokingly, she commented, "And, the food used to taste much better." 
 
     Wallace said today's busy lifestyles have had an impact on the Fair.  "It seems people were more settled down then.  They weren't rushing and running.  They had more time to spend at the Fair." 
 
     "We didn't have the luxuries that we have today, and a lot of people didn't even have transportation.  A lot of them walked." 
     Wallace commented that the Fair used to be a place where the different communities would come together and fellowship with one another in a laid back environment.  "It's not a calm place anymore.  It's like everybody is pulling against each other to have a good Fair."
 
     She said the rides used to extend all the way to the where the First Citizens Bank is now.  "That's how big the grounds were.  Now we're c onfined to a smaller area.  It's just not what I grew up with as the Cherokee Fair." 
   
     "Things have changed and we just need to work with what we have now," she said.  "It'd be really hard to go back to the old days.  But, I really enjoy it and I look forward to it." 
 
     Wallace said family and friends will come visit at the Fair each year from out of town.  "It's a gathering place." 
Bill Wolfe
     Bill Wolfe has been going to the Cherokee Indian Fair for many years.  "I like to go to the Indian ball games and watch them.  I like the old announcer.  He'll probably never be able to be replaced."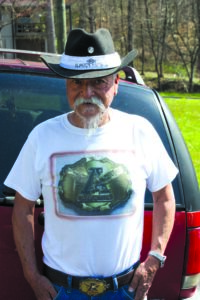 The announcer he's speaking of is the late Clifford Hornbuckle.  Wolfe related that Hornbuckle would announce the Fair with a booming voice and would frequently point people out in the midway and speak about them to make sure everyone felt included. 
 Wolfe also likes to visit the crafts exhibit hall each year.  "They also used to have livestock back in the early Fairs." 
 
     He is an avid collector and has many of the old Fair programs. 
But his favorite part of the Fair, "I just like visiting with all of the Indian people." 
Judy Smith
     Judy Smith is a traditional Cherokee woman who longs for the old days, and the Fair has brought her much joy over the years.  "It was a gathering of relatives and friends.  It was a meeting place.  Everybody came.  That was the coming home time."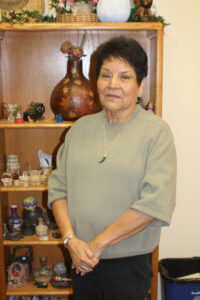 "What I remember most though was the agriculture," she said relating that the area where the Council House is currently located was an exhibit area for carvings and many handmade crafts including furniture. 
 
     "Where the Legal Division is at, that was canned goods," said Smith.  "And, the big gym that is no longer there, that was agricultural.  It was huge!  You exhibited what you grew and it was just a good time." 
 
     She said the activities have changed as well.  "We really didn't have a lot of commercialized things.  We had the Indian ball and Indian dancing.  It's nothing like it is today."
 
     Smith remembers fondly a time when Indian ball might literally mean the shirt off your back.  "The ladies would wear layers of clothing because they would bet.  They were betting on their team to win and they bartered, 'I'll bet my shirt for your shirt.'" 
 
     She said that community involvement was really big at the Fair.  "Every township had their archers.  They had their ball players, and a lot of people don't like to hear this, but they all had their medicine people."
 
     Smith said the Fair used to have a real homecoming feel.  "People used to pull in from all over.  That's how it used to be, and it isn't any more.  I would just like to see for one time that it go back to the old way – to let the little ones see what it was like." 
 
     In talking about the evolution of the Fair from her childhood to today, she summed it up in one word – commercialization.  "It's taken the heart and the meaning of the Fair.  But, it just took the heart out of it."
 
     She said it's sad that some today are only entering the traditional contests for the money.  "It's all about the money; it's not about the artistry.  I hate to say it, but I think that's the way the world is going." 
 
     Smith did commend Qualla Arts and Crafts Mutual, Inc. for helping encourage the continuation of Cherokee arts and crafts.   "All we have left of what used to be are the Indian dinners and the exhibits from Qualla Arts and Crafts, and the Extension tries to extend an agricultural aspect, but when you look at it, we've lost it." 
     "We have a book cover, but we don't have a book." 
 
     A few years ago, Smith was crowned Sr. Miss Cherokee, a title she was and still is very proud of.  She jokes though that she still is Sr. Miss Cherokee because they discontinued the pageant and a new Sr. Miss has yet to be crowned. 
 
Hope Pheasant
     Hope Pheasant has memories of the Cherokee Indian Fair back to when she was six years old.  "My dad drove a taxi and they'd drop us off at the Fair," she said.  "And, we always had a good time."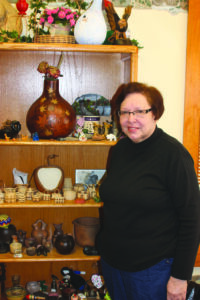 She fondly remembers the food booths that were at the Fair during her childhood.  "They'd line up two deep going down the fairground right in front of the ballfield.  This was when the fields were huge.  It went all the way back to where the Pageant Motel was." 
 
     Her church set up one of the food booths and Pheasant remembers her grandmother helping out.  "As kids, we got to eat there."
 
     The exhibits were always a highlight of the Fair for her, and she used to go out and pick wildflowers as a child to put into the exhibit.  Pheasant said the children would decorate mayonnaise jars with tin foil and use that as their vase for the wildflowers. 
 
     She remembers one part of the Fair that makes some laugh and some blush.  "They had hoochee-cooch dancers there.  It wasn't really bad, they were just belly dancers, but they called them hoochee-cooch dancers." 
 
     Pheasant said kids weren't allowed in the show, but that didn't stop her curiosity.  She remembers sneaking into the tent with several friends to see what the fuss was about. 
     "We would peek under the tent.  You couldn't see much but legs because it was a crowded little tent.  You could get in for a quarter, but as kids they wouldn't let you in.  So, we were curious.  We wanted to know what was going on in that tent that we couldn't see."
 
     She said she still enjoys the exhibit hall each year, "I like looking at all of the crafts and seeing who won." 
Bobbi Sneed
     Bobbi Sneed, from the Yellowhill Community, has fond memories of the Fair as a child.  "It was just a lot of fun, but that was when they had the chickens and the pigs and the horses, and then we got to see the different beadwork." 
 
     She said the Indian dancing has always been one of her favorite activities at the Fair.  "One of the highlights of the whole fair was when they did the Friendship Dance and all that.  It's one of those things that you really remember about the Fair." 
 
     "Then, as you got older, it was the rides and the concessions and then being able to eat a hamburger which you didn't get to do back then."
 
     She said in high school it was a lot of fun "because we got to be in the parade." 
 Sneed remembers fondly her father being a "referee" for the Indian ballgames and also the blowgun and archery contests. 
 
     In talking about the differences in the Fair, she related, "It's just all commercialized now.  Back then, you had to have a project to put into the Fair before you got a free ticket.  That way, everybody participated if they wanted to go for free.  Of course, now everything is free."
 
     She said she missed the dancing and the square dancing at the old Fairs.  "We always had a clogging contest.  We loved the music and the dancing.  Things like that have changed completely from what we did when I was a kid."