By GERRI GRADY
CHEROKEE RUNNERS
     Chad Bowman, a founding member of Cherokee Runners, will be traveling to China on May 13 to run in the Great Wall Marathon.  He has been training for the last several months for the challenging run that includes the 5,164 steps on the 26.2 mile course.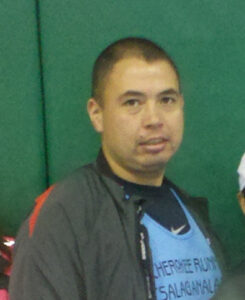 Bowman lives in the Big Cove Community and is employed by Tribal Bingo.  He has been running for the last several years and has completed the Marine Corps Marathon and participated in two Smoky Mountain Relays as well as numerous local races.  Go Chad!
     The Cherokee Runners started the spring session of Couch to 5K on April 29.  This session includes more than a dozen new runners and fitness levels vary from walker to occasional runner.   The men and women that have signed up all have a common goal:  to complete a 5K whether walking or running.  The coaches will work with them to help them accomplish the goal.  The session will end with the Cherokee Runners 4th of July Sunset 5K.  Congratulations to each new runner!
     The 4th of July Sunset 5K and Fun Run will begin on Wednesday, July 4 with the Fun Run starting at 7:15pm from the Cherokee Indian Fairgrounds.  The 5K will begin at 7:45pm and will be finished around 8:30.  The race will start at the Fairgrounds, go through town and turn around at the Casino red light to finish at the Fairgrounds.  Interested runners can sign up at
https://runsignup.com/Race/NC/Cherokee/2012Sunset5K. 
     The Cherokee Runners meet twice at month at the Age Link Conference Room.  For the spring/summer, meetings will be held at 6:30pm.  Anyone can join – no matter the fitness level.  Check us out at www.cherokeerunners.com or see our Facebook page.