GATLINBURG – Great Smoky Mountains National Park's nonprofit partner, Great Smoky Mountains Association, has just released its newest book, Family Fun in the Smokies: A Family-friendly Guide to the Great Smoky Mountains by Katy Koontz. This colorful, 196-page guidebook is chock full of maps, games, illustrations, photographs, fun facts, "factivities," and an authoritative text based on the author's personal experiences and countless interviews with park rangers and other "insiders."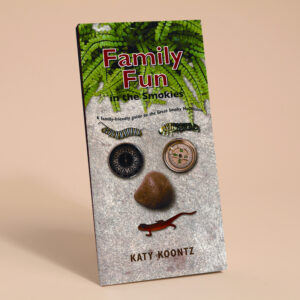 According to co-editor Steve Kemp, the goal of the book is to "help families with kids make the most of their time in and around Great Smoky Mountains National Park and avoid common family vacation pitfalls like driving two hours to find that a campground is full or a road has been gated for the season. It's also nice not to waste half your weekend deciding what everyone wants to do."
     The new book is literally a cornucopia of information organized mostly by activities, including "Waterfall Hikes & Walks," "Historic Walking Tours," "Scenic Drives," "Hikes & Walks with Views," "Picnicking," "Biking," "Horseback Riding," "Ranger Programs," "Camping," "Animals," and "Best Bets Outside the Park." Each chapter contains precise information on distances, hours of operation, facilities, driving directions, restrooms, and age appropriateness. Family Fun also includes a plethora of "Suggested Itineraries" for excursions ranging from a half day up to three days. And there is vital information on safety, park regulations, how to beat the crowds, accessibility, elk, salamanders, black bears, wildflowers, and everything else that makes the Smokies America's most popular national park.
     Even for people who are already familiar with the Smokies, this book is loaded with ideas and suggestions for fresh activities. How about an easy stroll to the log cabin once occupied by the five Walker Sisters, or a picnic beside a sparkling mountain stream or atop a mile-high overlook? Maybe take a drive on a "motor nature trail," earn a Junior Ranger badge, and spend the night at the highest lodge in the East? And the next day? Watch bull elk lock antlers and spar, take a hayride around Cades Cove or a wagon ride on the historic Oconaluftee Turnpike. Finish up by catching a sunset from an observation tower or catching a native brook trout in an alpine prong.
     Of the book, Smokies Park Ranger and Education Branch Chief Karen Ballentine said, "It's one of our goals of the National Park Service to encourage kids and their families to get outside for better health and for fuller, richer lives. We believe visiting parks can help instill in children a lifelong love of the great outdoors."
     Author Katy Koontz lives in Knoxville, Tenn. She is a highly prolific writer who specializes in pieces on family travel and who has published articles in Southern Living, The New York Times, Glamour, Woman's Day, National Geographic Traveler, McCall's, Parenting, Reader's Digest, and many other publications.
     Publisher Great Smoky Mountains Association was chartered in 1953 to support the park's educational, scientific, and historical programs. Every year the association donates over $1 million worth of funding and services to the park. All proceeds from the sale of this book will be used to help the national park.
     Family Fun in the Smokies sells for $11.95 and is available in area bookstores, outdoor shops, in park visitor centers and by calling 1-888-898-9102 x226 or www.SmokiesInformation.org.
     Info: Steve Kemp at Steve@GSMAssoc.org or (865) 436-7318 x227.
– GSMA