Photo courtesy of Sky Kanott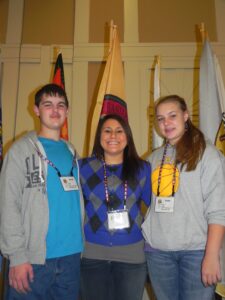 Jacob Long and Faith Long, shown with Cherokee Youth Council program manager Sky Kanott (center), represented the Eastern Band of Cherokee Indians at the five-day Intertribal Agriculture Council Conference in Las Vegas, NV.  The EBCI and the Seminole Tribe of Florida were the only two eastern tribes represented.  The purpose of the conference is to learn about agricultural programs offered to Native Americans and how to utilize them and also to meet youth across the country that are performing agriculture in their communities.  
     "Faith and Jacob have definitely gotten their hands dirty working in the gardens this past summer and have also decided to start a family garden near their home," said Kanott.  "Our hope is to influence our communities to bring back our Cherokee gardening techniques and to rid our sense of dependability on others."
     Jacob and Faith, both 13, are from the Tow String Community.  Their parents are Sheila and Ronnie Long. 
– Sky Kanott