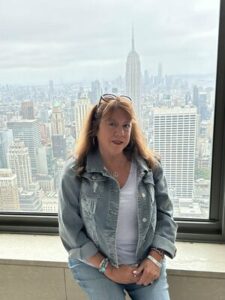 Myra (My) N. Rogers-Bruneel, 59, of Cherokee, N.C., suddenly went home to be with our lord on Tuesday, Nov. 7, 2023, at Mission Hospital in Asheville, N.C.  My was an enrolled member of the Eastern Band of the Cherokee Indian.
She is survived by her triplets, Rachel Bruneel, Matthew Bruneel, Sarah Bruneel, and her bonus daughters, Tiffanie Bruneel and Jessica Schmidt (Tyler). She has eight grandchildren, Austin, Sam, Maddie, Henry, Charlie, Raeleigh, Nyla, and a granddaughter on the way. She has one living brother, Glenn Rogers, and her mother, Mary Jo Rogers. Myra is preceded in death by her father, Alvin Rogers and her soulmate, Kevin Bruneel.
Myra was born Feb. 13, 1964, in Plantation, Fla. She was the youngest child of Mary Jo and Alvin Rogers and graduated from Plantation High School in Plantation in 1982. My was a travel agent for many years until she gave birth to her triplets and became a stay a home mother and grandmother. She lived in Florida for the majority of her life until she moved to Cherokee, N.C. in 2017 after her triplets graduated high school.
My was a very loving, caring, intelligent, beautiful, free-spirited women. She loved her southern rock music, concerts, and traveling. Not one song came on that she did not know. My and Kevin enjoyed going on cruises throughout the years, meeting various bands and creating lifelong friendships. My also loved her lifetime movies and daytime shows. She also enjoyed playing darts, giant Jenga, and riding around.
My was truly loved by everyone she crossed paths with and will forever be missed.
A Celebration of Life for My will be announced at a later date.