Submitted by EBCI Division of Commerce
CHEROKEE, N.C. – Change is in the air, and it's bringing a fresh wave of excitement to the 111th Annual Cherokee Indian Fair. This year, we're thrilled to announce several dynamic updates to the schedule, all in response to the desires of a passionate community. From Oct. 3-7, the Fair will be held at the historic old Cherokee High School / Acquoni Expo Center site, 1501 Acquoni Rd., Cherokee, N.C. for a cultural celebration like no other under the theme, "They Made The Way."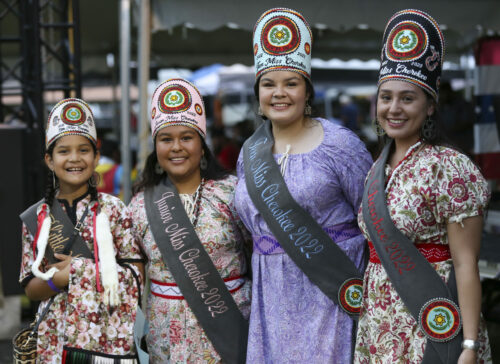 One of the most significant changes this year is the highly anticipated return of the beloved pageants, including the Teen Miss, Little Miss, Junior Miss, and the crowning jewel, the Miss Cherokee Pageant.
EBCI Division of Commerce officials noted, "We've worked in close collaboration with the Cherokee Pageant Board to make this dream come true. We can't wait to celebrate the talents and beauty of our remarkable contestants."
In addition to the pageant comeback, the Commerce team has also been working closely with the stickball teams to fine-tune their playtimes. Moving some games up an hour ensures that the teams and fairgoer save more daylight hours to witness the thrilling action on the field. We're committed to providing the best viewing experience while honoring this cherished tradition.
The parade, a beloved highlight of the Cherokee Indian Fair, has a time adjustment this year. It will now commence at 3 p.m. on Tuesday, Oct. 3 kicking off the festivities in grand style.
A detailed event schedule is forthcoming reflecting the following changes:
Monday, Oct. 2 – Fair Week Stick Off:
5 p.m. – Stickball games at Unity Field
Tuesday, Oct. 3 – Parade Day:
3 p.m. – Parade begins
6:30 p.m. – Teen Miss Cherokee Pageant, Fair main stage
Wednesday, Oct. 4 -Children's Day:
9 p.m. gates open – no changes
Thursday, Oct. 5 -Elder's Day:
11 a.m. – Fashion Show, Fair main stage
2 p.m. – Youth Stickball
3 p.m. – Elders Stickball
4 p.m. – Men's Stickball
5 p.m. – Men's Stickball
6:30 p.m. – Little Miss Cherokee and Junio Miss Cherokee Pageants – Fair main stage
Friday, Oct. 6 -Veterans Day:
8 a.m. – Gates open
2 p.m. – Veteran's Games
2:30 p.m. – Veteran's Games
2:30 p.m. – Youth Stickball
4:30 p.m. – Men's Stickball
5:30 p.m. – Men's Stickball
6:30 p.m. – Miss Cherokee Pageant – Fair main stage
Saturday, Oct. 7 -Community Day:
8 a.m. – Gates open
8 p.m. – The Romantics – Fair Main Stage
9 p.m. – Starship – Fair main stage
Following are the contestants for this year's Pageants. (Photos by A&M Photography)