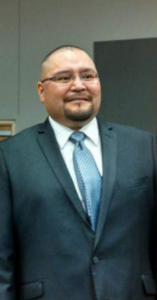 Julius Francis "Sonny" Taylor, 50, of the Big Cove community of Cherokee, passed away Saturday, June 3, 2023. A native of Cherokee, he was the eldest son of Nellie Armachain Taylor.
Sonny was a member of the 1988 and 1989 Maroon Devil State Championship Football Teams and a 1990 graduate of Swain County High School. He worked in the public service sector of the Eastern Band of the Cherokee Indians for 26 years in law enforcement and as a legal liaison for the Cherokee Indian Housing Division.
Sonny was an avid sports enthusiast. He loved playing golf and enjoyed being part of the Raider Nation, as well as a Boomer Sooner, and lastly a Yankee Fan. One of his favorite pasttimes was Friday Night Football.  He cherished the lifelong friendships which he harvested from playing and supporting the Maroon Machine.
In addition to his mother, he is survived by his daughters, Alyssa Taylor (Jimmy), Sydney Taylor; two grandchildren, Alaina Smith and Nakos Calhoun; brother, Anthony Taylor (Jenea); sister, Lori Taylor; three nephews, Christian "Tyler" Taylor, Colby and Carson "Nunie" Taylor; two nieces, Erin "Whitney" and Aaliyah "Maddie" Rogers; and many loving aunts, uncles, and cousins, all of Cherokee.
The family will receive friends on Thursday June 8 from 6 p.m. to 8 p.m. at Crisp Funeral Home Chapel where he will remain until funeral service on Friday, June 9 at 1 p.m. Pastor Tony Cochran will officiate. Burial will be in Jesse Murphy Family Cemetery.
Pallbearers will be Colby Taylor, Carson "Nunie" Taylor, Daniel Owl, Donald Owl, Manuel Watty, Gene Owle, Jimmy Smith, Dre Bryson, and honorary pallbearer, Nakos Calhoun.