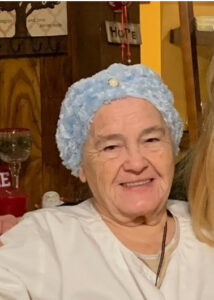 Inez Marie Wolfe, age 88, passed away peacefully on Wednesday, May 24, 2023 at Cherokee Indian Hospital.
She is survived by her children, Vicki Driver, Janet Wolfe, both of Cherokee, N.C. and Darrell Wolfe of Knoxville, Tenn.; 22 grandchildren; 37 great-grandchildren; 12 great-grandchildren; sister-in-law and very good friend, Marie Swayney, and her Fur Baby, Hulk.
Inez was preceded in death by her husband, Ned Wolfe; father, Jess Swayney; mother, Sarah McMillian; sons, Leonard Wolfe and Eric Wolfe; daughters, Edie Santiago and Darlene Wolfe; brothers, Hubert Swayney, Lorenzo, David, Thurman, and Leonard Swayney; and sisters, Josie Saunooke, Edith Watty, Nettie Pheasant, and Ester Walkingstick.
A visitation will be held on Friday, May 26 at Straight Fork Baptist Church beginning at 5 p.m. Inez will remain at the church until the hour of service on Saturday, May 27 at 2 p.m. with Harley Maney Jr. officiating. Burial will be in the Inez Wolfe Family Cemetery. Pallbearers will be Richard Driver, Stan Watty, Kevin Watty, Ian Crowe, Dick Crowe, Stevie Watty, Quintin Watty, Jody Wolfe, Taylor Wolfe, Nick Wolfe, Damion Kalonaheskie, and Willie Arch. Honorary pallbearers will be Daniel Reed, J.R. Mahsetky, and Eric Wolfe.
Long House Funeral Home assisted the family with final arrangements.