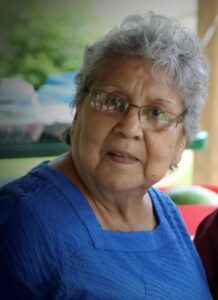 Juanita Littlejohn Bradley, 85 of the Wolftown Community, passed away peacefully on Monday, May 22, 2023, surrounded by her loving family. She was the daughter of the late Eugene and Encie George Littlejohn.
Juanita enjoyed making dreamcatchers, sewing, cooking, and spending time with her family.  She especially enjoyed riding with her husband.
Along with her parents, she is preceded in death by a son, Alfred Eugene "Big Boy" Bradley; a sister, Waneema Driver; and two grandsons, Shannon Pheasant, and Eddie Bradley.
She is survived by her loving husband of 62 years, William "Jack" Bradley; two daughters, Jackie Ross (Donald) and Jacquelyn Bradley (Rodney); a special grandson, CJ Yates (Shalana); grandchildren, Cory Ross (Winnie), William Wright, and Krystal Pheasant; nine great-grandchildren; two great-great-grandchildren; a special sister-in-law Amy West; and many other nieces, nephews, and friends.
Funeral Services will be held Thursday May 26 at 2 p.m. at Bigwitch Baptist Church, with Rev. Ben Reed officiating.  The family will receive friends Wednesday, May 25 from 5 p.m. to 11 p.m. at the church.