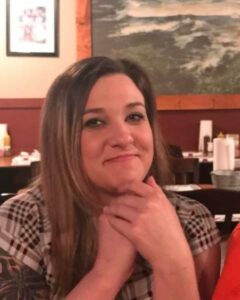 Jessica Elaine "Happy" Bryson, 35 of Sylva, passed away on Tuesday, May 16, 2023. She was born in Jackson County on Oct. 3, 1987, to Tonya Franks and John Bryson. Jessica loved spending time with her children. She was "live life to the fullest" type of person always joking and kidding around. Jessica will be missed by many.
Jessica is survived by her children, Maleek Littlejohn, Kaiden Littlejohn, Ayaisha Driver; mother, Tonya Franks (Tony); father, John Bryson; sister, Jennifer Peterson (Teddy); step siblings, Travis Franks (Tabatha), Cheryl Franks; grandparents, Javan & Minnie Bryson and Elizabeth Franks; nieces, Peyton and Reagan Hooper; nephews, Tripp and Bubba Peterson; aunt, Arlene Trantham; uncles, Shane and Allen Love. Several cousins and friends also survive.
She is preceded in death by her grandparents, Vance Nations, Wanda McDaniel, Marion Franks; great grandparents, Margaret and Eldon Mathis.
A funeral service will be held at 1 p.m. on Saturday, May 20 in the chapel of Appalachian Funeral Services. Rev. Roger Luker, Rev. Jason Bryson, and Rev. Dennis Burrell will be officiating. Burial will follow at Mathis Cemetery. The family will receive friends from 11 a.m. to 1 p.m. prior to the service at the funeral home.
An online registry is available at www.appalachianfuneralservices.com